Hold Their Fire? Border Patrol Adopts New Directive On Use Of Deadly Force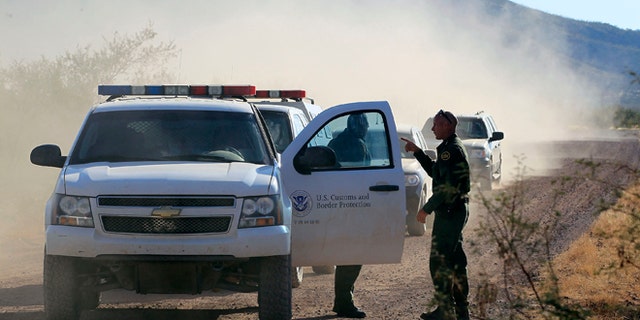 Following a series of controversial shootings along the U.S.-Mexico border, Michael J. Fisher, chief of the Border Patrol, announced a new directive Friday on the use of deadly force.
The principal changes involve shooting at moving vehicles and people crossing the border illegally who throw stones at agents.
"Agents shall not discharge their firearms," Fisher wrote in the directive, at vehicles that are merely fleeing. He added that "agents should not place themselves in the path of a moving vehicle or use their body to block a vehicle's path."
As for rock-throwing incidents, "Agents should avoid placing themselves in positions where they have no alternative to using deadly force," he wrote. "[They] should obtain a tactical advantage in these situations, such as seeking cover or distancing themselves from the immediate area of danger."
Speaking with reporters, Fisher urged agents to use "alternative methodologies,'' which would include calls for backup, according to USA Today.
"As our operational environment changes, we too must change, adapting our methods in executing our border security mission, while minimizing risk to ourselves and others," he said.
An American Civil Liberties Union spokesman, Chris Rickerd, told the Washington Times Chief Fisher's new guidance on use of force leaves much to be desired. It is largely a restatement of existing policy, which is a shame because clearly existing policy isn't working."
The Border Patrol and Customs and Border Protection publicly released the full text of their use-of-force policies as a response to criticisms about a lack of transparency and accountability in cases involving questionable use of force.
Fisher noted in the directive that since 2010 agents have been assaulted with rocks 1,713 times; they responded with deadly force 43 times, "which regrettably resulted" in 10 deaths. According to the Arizona Republic, while some agents have been seriously injured, none have been killed in rock-throwing assaults.
Follow us on twitter.com/foxnewslatino
Like us at facebook.com/foxnewslatino