Hero rail worker drags suicidal woman from path of train in China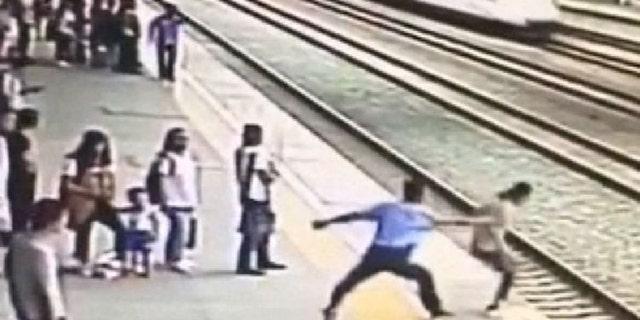 A railway worker's quick thinking saved a woman's life when he spotted her running into the path of an oncoming train and hauled her back onto the platform.
The suicidal woman suddenly made a dash for the tracks as the train was just seconds away from arriving at Putian City in China's Fujian Province.
But 54-year-old Weng Jianzhong reacted immediately, grabbing her arm and saving her from falling over the edge.
With both falling to the ground, the train missed the woman's legs by a second.
The woman, in her 20s, burst into tears on the platform after being pulled to safety. She was taken to hospital but had no serious injuries.
Her rescuer received 6,000 yuan ($869) as a reward.