Heavy security presence at Tunisia TV trial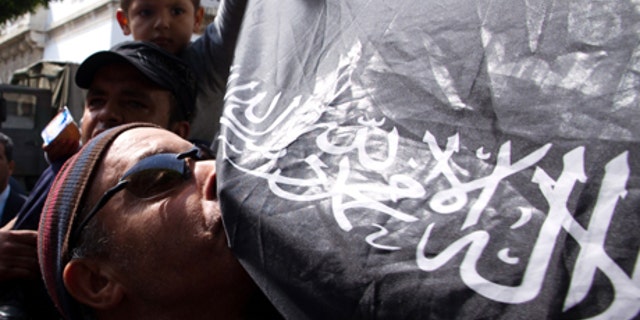 TUNIS, Tunisia – A heavy military presence separated rival protests Thursday at the trial of a Tunisian TV station owner charged with violating sacred values -- the latest dispute in the struggle between the country's secularists and hardline Islamists.
The two groups have been battling over the future of Tunisia, which overthrew its longtime dictator in January 2011 and held a historic election in October that was won by the moderate Islamist Ennahda party.
Station owner Nabil Karoui is on trial after his private Nessma TV station showed the animated film "Persepolis" last October. The film includes a depiction of God, seen by some as sacrilegious.
Outside the courthouse, some hundred hardline Islamists, known as Salafists, called for the the TV station to be shut down while a roughly equal number of liberals demonstrated in support of Karoui and condemned the trial as an attack on freedom of speech.
Barbed wire kept the two demonstrations separate after protesters during the last court session in January attacked people leaving the courthouse.
In court, Karoui's defense lawyers urged that the case be dismissed, describing the trial as an "inquisition."
"It is a plot, they want to divide Tunisia into two parts: Islamists and those they call secularists falsely equated with unbelievers," said lawyer Abdelaziz Mzoughi.
The prosecutor, for his part, briefly restated the charges and said the broadcast of the film and the terminology used in the Tunisian translation were "reprehensible acts forbidden by law."
The judge said a verdict will be announced May 3.
Protesters, meanwhile, hurled abuse at each other.
"They are enemies of God and the prophet and they want to politicize the issue to get out of the mess they have put themselves in," said Faisal Rouafi, an Islamist demonstrator.
On the other side, Thamer Mechi, a mathematics professor, accused the government of stifling freedom of speech.
"The government wants to control the media and return the iron hand on the sector to keep people from continuing the revolution that was made for justice, dignity and liberty," he said.
The French-language movie, which had earlier appeared in Tunisian theaters with little complaint, was broadcast in October ahead of the election, prompting angry demonstrations. Nessma had dubbed the movie into a Tunisian dialect and Karoui's home was later firebombed by an angry mob.
Iranian director Marjane Satrapi's award-winning adaptation of her graphic novel about growing up during Iran's 1979 Islamic Revolution won the jury prize at the 2007 Cannes Film Festival.
Amnesty International called the trial a "glaring disregard for freedom of expression" and said the charges must be dropped. It said Karoui faces up to three years prison if convicted.
"At a time when we are looking to the Tunisian government to set an example by enshrining full respect for human rights in the country's new constitution, it is disturbing to see this trial continuing," Hassiba Hadj Sahraoui of Amnesty said in a statement.