Grenade explodes during Ukraine clashes; 1 officer killed, around 100 injured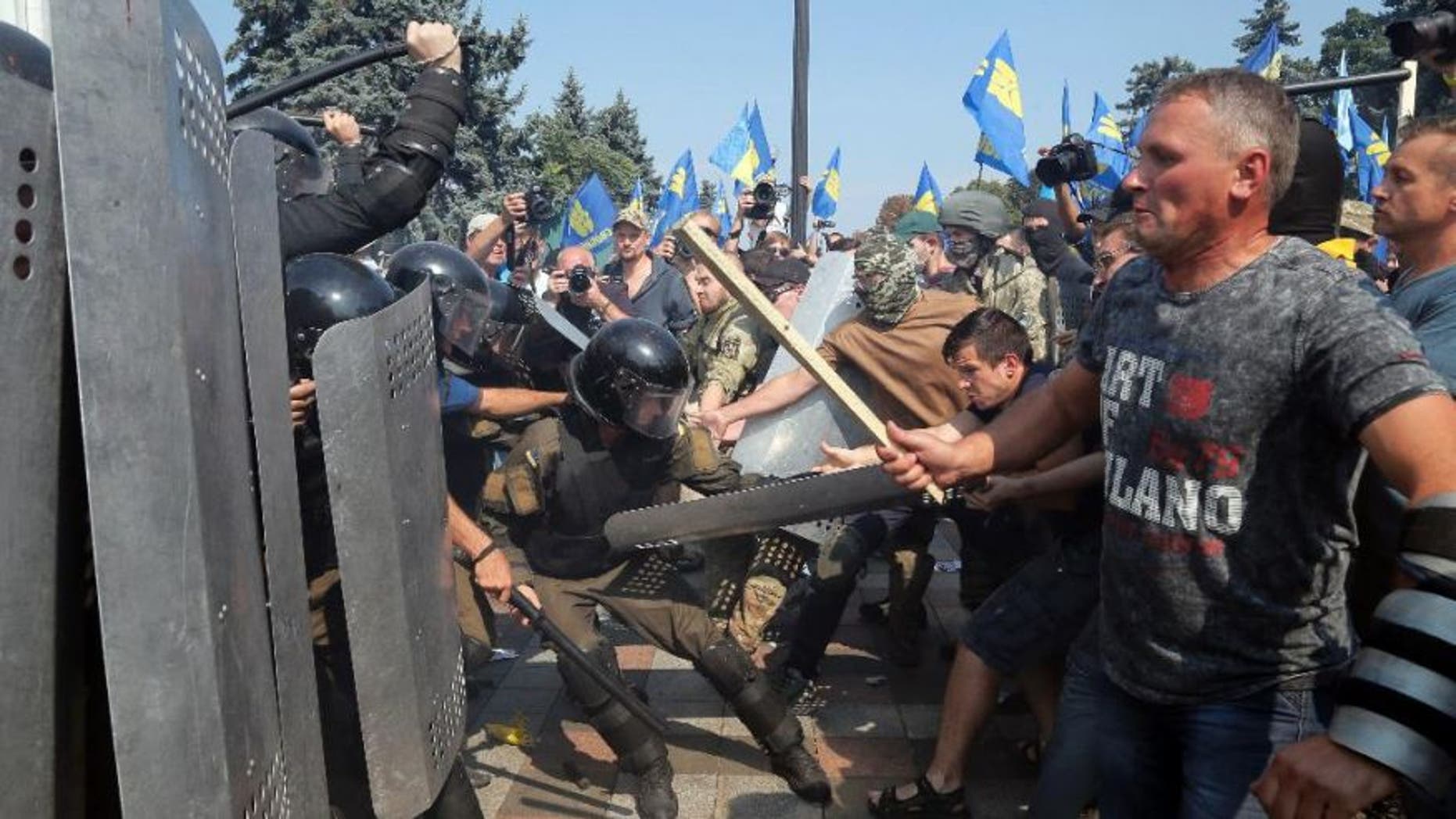 A grenade exploded outside Ukraine's parliament during a nationalist protest against a vote to give greater powers to separatist regions in the east, killing one police officer, the interior ministry said. About 100 other officers were injured in the clashes, 10 of them seriously.
Some of the officers were injured in the blast. One of them died from shrapnel wounds, Interior Minister Arsen Avakov said.
No injuries were immediately reported among the approximately 100 protesters, most of whom were members of Svoboda, a nationalist party that holds only a handful of seats in parliament. The protesters were carrying sticks and truncheons. Some of them were masked.
Kiev mayor Vitali Klitschko described the clashes as "a bloody provocation" and called for the prosecution of the attackers.
Avakov said that about 30 people have been detained, including the person who threw the grenade.
The decentralization of power was a condition of a truce signed in Minsk in February aimed at ending the fighting between Ukrainian government troops and Russia-backed separatists that has left more than 6,800 dead. But some Ukrainians oppose changing the constitution, saying that it would threaten the country's sovereignty and independence.
A total of 265 deputies in the 450-seat parliament gave preliminary approval Monday to the changes proposed by President Petro Poroshenko. Three parties that are part of the majority coalition in parliament, however, opposed the constitutional changes.
"This is not a road to peace and not a road to decentralization," said the leader of one of those parties, former Prime Minister Yulia Tymoshenko. "This is the diametrically opposite process, which will lead to the loss of new territories."
Parliamentary speaker Vladimir Groisman denied that the changes would lead to the loss of the Donetsk region, where there have been clashes with separatists.
"There is no hint of federalism. Ukraine was, is and will be a unified state," Groisman said.