Greece expels Russian diplomats over alleged protest money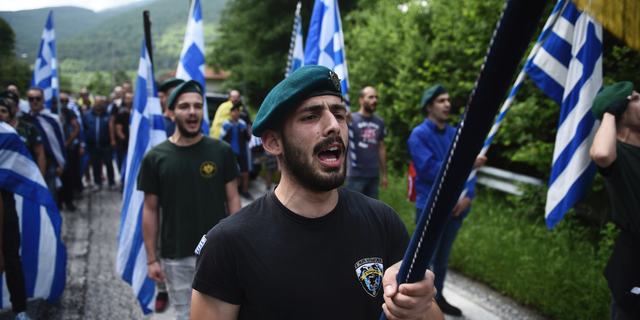 THESSALONIKI, Greece – Greece moved to expel two Russian diplomats and to block two others from entering Thursday after authorities learned that clergy and other organizations allegedly received Russian money to oppose a deal to end Greece's longstanding name dispute with neighboring Macedonia, a Greek official said Thursday.
Russian authorities have been given until Friday to get the two diplomats already in Greece out of the country, the official said. It was not immediately clear if they already departed.
Russian funding to Greek clergy previously was "tolerated" for the sake of maintaining friendly religious ties between the two Orthodox Christian nations, said the official, who spoke on condition of anonymity because he was not authorized to speak publicly about the issue.
The government was compelled to act when Russian funds allegedly were provided specifically to support protests that took place after the foreign ministers of Greece and Macedonia signed the deal, the Greek official said.
"There's evidence in the hands of Greek authorities regarding specific actions that were taken and to where these actions were directed," the official told The Associated Press.
Greek government spokesman Dimitris Tzanakopoulos said Wednesday that Athens wouldn't accept "behavior that violates international law" and disrespects the Greek state.
Meanwhile a Russian diplomat who spoke on condition of anonymity because he was not authorized to speak publicly dismissed as "nonsense" allegations that Russian diplomats were involved in undermining Greek public support for the Macedonia deal.
In Moscow, the Foreign Ministry took a careful stance.
Ministry spokeswoman Maria Zakharova warned that diplomatic expulsions typically bring a tit-for-tat response, but underlined the importance of Russia-Greece ties.
"We always proceed from the assumption that such things as expelling diplomats entail a response in kind," she said, adding that while such moves "don't have a positive impact" on bilateral ties, "we also proceed from the understanding that bilateral ties have their own value."
Some Russian experts were less diplomatic.
Igor Pshenichnikov, an expert for the Russian Institute for Strategic Studies, a government-funded think-tank, alleged the Greek authorities acted "under the pressure of their advisers from Brussels and Washington." In remarks carried by the Tass news agency, he described the move as Greek Prime Minister Alexis Tsipras' "gift for the NATO summit."
The deal to end the name dispute foresees Macedonia renamed North Macedonia in exchange for Greece dropping objections to its northern neighbor joining NATO and the European Union. It still faces several hurdles — including constitutional changes and a public referendum in Macedonia — before it becomes final.
Numerous protests against the deal have drawn thousands of Greeks who oppose Macedonia using any form of the name. They claim it implies territorial ambitions on its own northern province of the same name, which was the birthplace of the ancient warrior king Alexander the Great, and usurps ancient Greek heritage and history. Several demonstrations had turned violent.
On Wednesday, NATO leaders formally invited Macedonia to start membership talks, with the alliance, while cautioning that it can't be completed until the "name issue" is resolved.
___
Menelaos Hadjicostis reported from Nicosia, Cyprus. Vladimir Isachenkov in Moscow contributed to this report.