Glimpse of Chinese New Year: Reunited families 'tossing up good fortune' in Singapore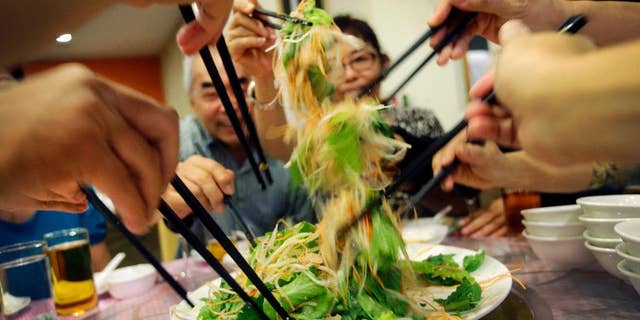 SINGAPORE – Twenty family members are seated at two round tables in a Chinese restaurant. At the start of the eight-course meal, Cheong Lan Yang, 68, with chopsticks in hand, joins other family members in tossing raw fish salad, known as "yu sheng," from plates placed at the center of each table.
This photo by Associated Press photographer Wong Maye-E shows the Singaporean tradition known as "lo hei," which means "tossing up good fortune" in Cantonese and is done at the start of family reunion dinners before Chinese New Year. The raw fish in the salad symbolizes the abundance of wealth and long life that Cheong, who lives in Australia, hopes for in the new year.
"I hope this Chinese New Year brings good health because I would like to live long enough to see my grandchildren one day," he said. "Chinese New Year is a time for family gathering and that means a lot to me because I currently live abroad, and this is a time for us to share old memories as well as make new ones."
Each day this week, the AP will showcase a single Chinese New Year-themed photo from around the Asia-Pacific region, illustrating what China's biggest holiday means to the country and its extensive Chinese diaspora.