Giant squirrel art installation in Kazakhstan sparks backlash over $67G cost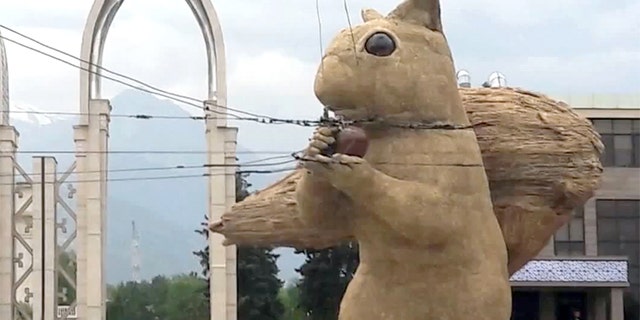 The city of Almaty, Kazakhstan, has a new resident: a massive squirrel.
The art installation is 40 feet tall and just one of the pieces featured in the Art Energy Almaty festival, the BBC reports.
The huge rodent comes with a hefty price tag: production costs came to $23 million tenge ($67,000), with $15 million coming from city hall, the news outlet said.
The sculpture has drawn both approval and scrutiny from social media users.
BBC quoted one critic as saying it was a waste of tax money, while a supporter reportedly argued the statue gave children "joy and delight."
Others on Twitter have also offered their thoughts.
"That's nuts - but definitely not peanuts - to spend that kind of money on a squirrel!" a user wrote.
"I would be complaining, too," a woman wrote.
"They have been had off, looks horrendous," a commenter added.
In a message of support, another Twitter user said, "Nice statue."
And in a tweet translated from Russian, someone called the installation "wonderful."
BULL GORES CALIFORNIA MAN LOOKING AT CAR FOR SALE
British artist Alex Rinsler, who was involved in making the squirrel, said the animal is a great representation of the people in Almaty.
"Squirrels are our urban neighbors," he explained. "Like us, they adapted to life in the city, and, like us, they need the resources to survive and thrive," Rinsler told the Calvert Journal.
BURGLAR BREAKS INTO ESCAPE ROOM, CAN'T FIGURE OUT HOW TO ESCAPE
He also revealed its meaning, claiming it embodies life in the Kazakh city.
"I hope that people will be able to identify themselves with this giant squirrel, with its beauty and strength, as well as with its sense of depression and uncertainty that unite us in these unpredictable times," Rinsler argued.