Georgia ex-president Saakashvili steps down in Ukraine amid corruption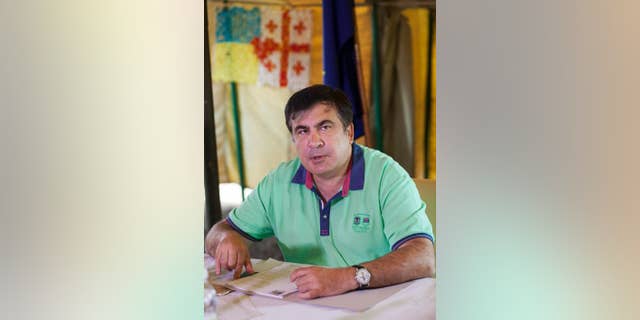 Mikhail Saakashvili, the former Georgian president who became governor of Ukraine's Odessa region, announced Monday that he is resigning in frustration at what he characterized as obstruction in efforts to root out corruption.
Saakashvili was appointed governor of the corruption-riddled Black Sea region in May 2015 by President Petro Poroshenko. But in his resignation announcement in Odessa, Saakashvili accused Poroshenko of supporting the criminal clans in Odessa.
UKRAINIAN PRESIDENT FALLS VICTIM OF PHONE HOAX
Saakashvili announced his resignation in a video posted on his Facebook page, saying he felt "cheated and tired."
"We are witnessing retrograde forces attacking everything progressive," he said. "We are seeing all new beginnings being nipped in the bud."
Poroshenko has made Ukraine's integration with the European Union a priority, but endemic corruption throughout the country impedes that policy.
UKRAINIAN MAN CHANGES HIS NAME TO IPHONE 7 TO WIN A FREE DEVICE
During Saakashvili's 2004-2013 tenure as Georgian president, one of his main achievements was a significant reduction in corruption as well as a crackdown on organized crime. He reformed the Georgian police force, ending its long history of bribe-taking.
Hot-tempered and uncompromising, Saakashvili was a divisive figure. He left Georgia after his party lost the 2012 parliamentary election and was stripped of his Georgian citizenship after becoming Odessa governor.
His efforts in Odessa, Ukraine's main Black Sea port, have met stiff resistance. He accused local elites of thwarting his efforts, especially Odessa Mayor Gennady Trukhanov, a member of the party once headed by Viktor Yanukovych, the former Ukrainian president who fled in 2014 to Russia following massive protests.
Saakashvili has likened Odessa, known for its exquisite theaters and museums but also for its organized crime, to Chicago at the time of Al Capone.
Last December, a video was made public of Saakashvili lambasting Interior Minister Arsen Avakov over alleged corruption during the national Reforms Council. Avakov in turn mocked Saakashvili's stutter and threw a glass of water at him.
In the summer, Saakashvili took the dramatic step of setting up his office in a tent alongside a main highway that is in poor condition despite government promises to fix it.
In a video of his resignation announcement, Saakashvili said he would begin "a new step in the fight," but it was not immediately clear what that would entail. He has founded a new political movement, which staged anti-corruption rallies that attracted thousands across Ukraine.
"Saakashvili's resignation deals a powerful blow to reformist forces in Ukraine and gives a bad signal to the West," said Vadim Karasyov, a Kiev-based political analyst. "The charismatic Saakashvili now has just one option: to join the opposition. And that may herald a new wave of massive protests in Ukraine."