Frog not sighted in 30 years and declared extinct reappears in Costa Rica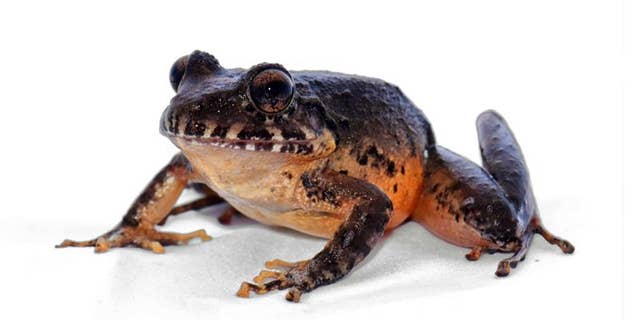 SAN JOSE – Costa Rican scientists reported Tuesday the reappearance of an endemic frog species that had not been sighted for three decades.
It was declared extinct in 2004 iby the International Union for Conservation of Nature (UICN).
The Heredia robber frog, whose scientific name is Craugastor escoces, was spotted by Costa Rican biologists Gilbert Alvarado and Randall Jimenez in the Juan Castro Blanco National Park in Alajuela province.
TEXAS MAN CATCHES 'MONSTER' FROG, PHOTO GOES VIRAL
The discovery occurred on Sept. 19, 2016, while collecting a sample of amphibians.
The frog found is a coffee-colored adult female with a red belly and measures 3 1/4 inches.
This species had not been observed since 1986. In 2004, the UICN declared this and two other amphibians extinct: the Holdridge's toad, which is no longer in the extinct list either, and the Golden toad, which researchers believe to be the first victim of global warming.
MUCUS FROM COLORFUL FROG COULD CONTAIN POWERFUL FLU FIGHTER
Alvarado said losing a species is a hard blow for science and for biodiversity. "They represent years of evolution and each one has a biological function within the ecosystem," he said. "Knowing that the robber frog is there means recovering genetic material of incalculable value."
The discovery occurred in a ravine at an altitude of 6,000 feet. Little is known about the species because it had been studied very little.
Official data indicate that in this Central American country there are more than 200 species of frogs and toads.
Costa Rica, with 4.7 million inhabitants, has close to 4.5 percent of the biodiversity on the planet, being one of the top 20 countries in the world for biodiversity.