French cop injured as police battle flaming barricades to clear out protest camp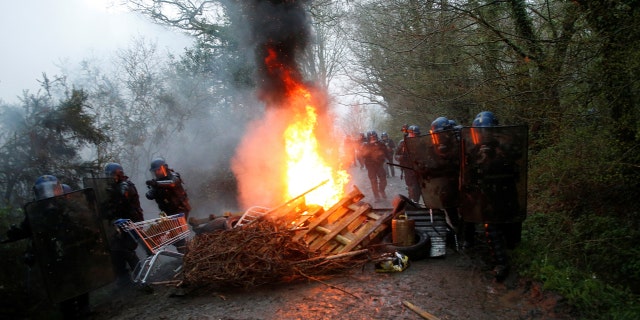 A French police officer was reportedly injured Monday as 2,500 cops swarmed a protest camp occupied by eco-activists and anarchists, who pelted police with stones, gasoline bombs and flares.
The National Gendarmerie police service said the officer was hospitalized after being hit in the eye with a flare, but was not in life-threatening condition.
At least one person was arrested and scattered clashes occurred as police moved into the site in Notre-Dame-des-Landes in western France.
The site in Notre-Dame-des-Landes has been filled for years with squatters who were opposed to a plan for a $750 million airport the French government ultimately scrapped in January, according to Reuters.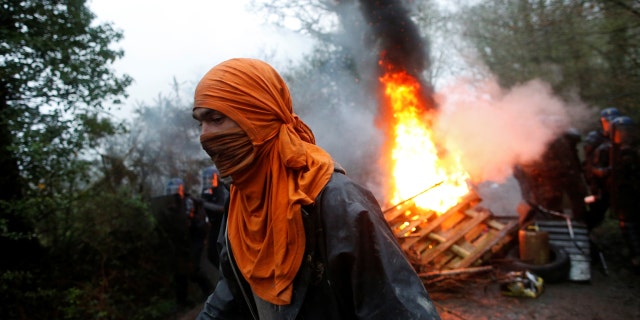 Many of the squatters stayed in place, and sought to turn the area into a "space of social, environmental and agricultural experimentation."
The gendarme service said about 100 squatters were living at the site when Monday's operation began, and a few hundred others came to join Monday's protests.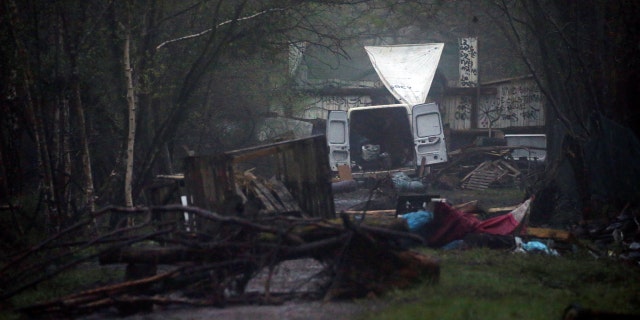 Authorities had blocked surrounding roads starting at 3:30 a.m. local time before beginning the operation at 6 a.m. -- when a Reuters journalist saw protesters set fire to the barricades.
FRANCE PUTS 78,000 SECURITY THREATS ON VAST POLICE DATABASE
France's Interior Ministry said in a statement the police operation was to "put an end to a lawless zone."
"Illegal constructions must be brought down for things to come back to normal in Notre-Dame-des-Landes," Interior Minister Gerard Collomb told Europe 1 radio.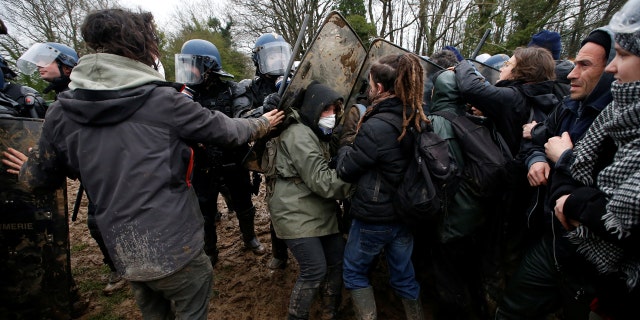 Proponents had argued the region needed a larger airport to boost its economic prospects, while those opposed to the project said a new airport was unnecessary and a symbol of exploitative globalization.
The government requisitioned the land from farmers for the airport, but is now offering to return the land to those who want it.
The Associated Press contributed to this report.