France's steely Le Pen gets far-right in presidential runoff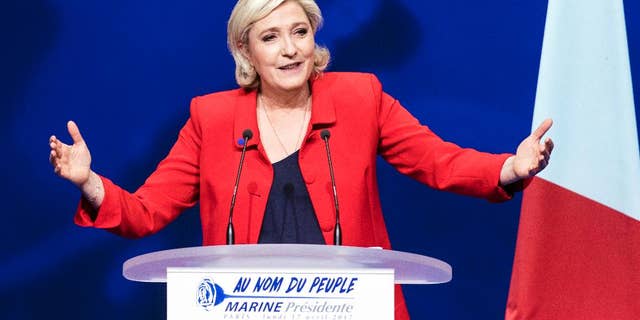 NEWYou can now listen to Fox News articles!
HENIN-BEAUMONT, France – Marine Le Pen's steely resolve, helped by a cutting tongue, propelled her political career, but it was her masterful use of a soft touch that has brought her one step away from the French presidency.
With that shift, Le Pen has widened her National Front party's appeal to voters once too timid for the extreme right. And this time, in France's May 7 presidential runoff, she is hoping to accomplish what her father could not when he ran in 2002.
She pledged Monday to "put France back in order."
Singing the French national anthem and smiling broadly after Sunday's first-round presidential vote launched her into the runoff with centrist Emmanuel Macron, Le Pen said her National Front party will represent "the great alternative" for French people frustrated with the status quo. Standing before an adoring crowd in her northern stronghold of Henin-Beaumont, Le Pen pledged to open a debate on globalization, which she says has bled France's working class.
The final days of the presidential campaign were upended by an attack claimed by the Islamic State group that killed a police officer on Paris' Champs-Elysees, feeding into one of Le Pen's central themes. She wants to build a secure sovereign state by cracking down on what she calls the "massive immigration" of radical Muslims who she says are trying to supplant France's Judeo-Christian heritage.
If elected president, Le Pen vowed to immediately put in place a "battle plan against Islamic terrorism ... so that France lives!" It was not clear what effect the attack had on the vote Sunday.
To her backers in this depressed northern region, Le Pen is a hero. Yet others fear her far-right party, saying the changes she has made to scrub its image of racism are merely cosmetic.
At 48, Le Pen, the mother of three, is an ambitious, bold and gritty leader who defied the old guard of her far-right National Front party. She expelled many of them to try to remove the taint of racism and anti-Semitism that clung to the party under the leadership of her father, Jean-Marie Le Pen. In 2015, she did not shirk from pushing him out of the party he founded in 1972, when he refused to desist from anti-Semitic provocations that were undermining his daughter's presidential bid.
"There was a Jean-Marie Le Pen era. Now it's a Marine Le Pen era," said Vincent Christian, 56, a retired gendarme and long-time National Front supporter at her election-night party Sunday.
"It's a turning point for France," said pastry chef Frederic Moirez, 33, of nearby Raimbeaucourt. "Only she can do something, make France move and put order in the country."
Macron came in first in Sunday's vote, with just over 23 percent while Le Pen had 21 percent. That means Le Pen has already done better than in 2012, when she came in third in the presidential vote a year after taking over the National Front.
The 2012 defeat only reinforced her desire to win. Since then, she has used local, regional and European elections to build a party machine to serve her ambitions. In 2014, the National Front won 11 towns in municipal elections, and her party performed better than any in France in the European Parliament election.
First a lawyer, then a politician, Le Pen has served as a European lawmaker since 2004, and since 2010 as a regional councilor for the northern region of France.
Born Marion Anne Perrine Le Pen in 1968 in a western Paris suburb, the youngest of three daughters, the far-right leader was weaned on family dramas. Le Pen has written that she was "raised on honey and the acid of politics," a reference to her privileged life and the weight of her larger-than-life father.
"To be the daughter of Jean-Marie Le Pen was not always easy," she said recently on the BFM TV station. But to be his daughter was to follow in his footsteps, she suggested, calling politics "the virus one has within."
One of the challenges included an attack that destroyed the family apartment building as 8-year-old Marine and her sisters slept.
The French media relished recounting the divorce of her parents in her teen years. In a reflection of that bitter separation, her mother, Pierrette Lalanne, posed for Playboy in 1987, partly dressed in a maid's costume. The magazine quoted her as saying she was responding to her husband's Playboy interview in which he said she could become a housekeeper if she needed money.
For years, Marine Le Pen had no relations with her mother, but today "there is lots of love between Mama and me," she said.
Le Pen is nothing if not loyal. Old friends from her days studying law in Paris, members of a radical student group known for violence and anti-Semitism, hold crucial roles in her inner circle — and are at the center of an alleged party financing scheme. The affair, to be heard in court, raises unanswered questions about Le Pen herself as she balances radical forces within the party with people she has won over from the mainstream left and right.
For Le Pen, it's not her father but "eternal France" that inspires her.
"Like mother's love, the love of France is not explained, it is lived," she once wrote.