Former Stepmother: Norway Killer Was Normal, Showed No Signs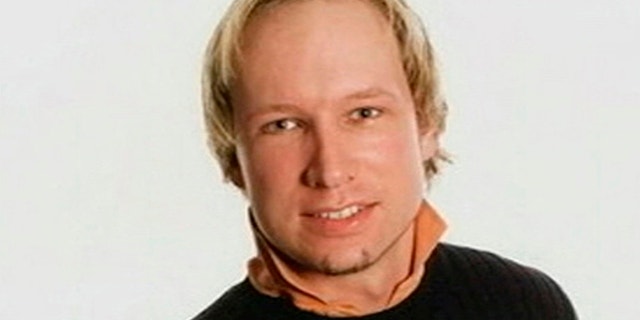 NEWYou can now listen to Fox News articles!
OSLO, Norway – The self-confessed mass murderer of 76 people in Norway was an apparently normal youth who showed no signs of what he was planning even in the months right before the massacre, his ex-stepmother told The Associated Press.
Tove Oevermo told the AP that she kept in touch with Anders Behring Breivik even after she and his father divorced when he was a teenager.
"He was just an ordinary Norwegian, a well-behaved boy. You can't put all of this together really. I saw no sign of him being a person like he must have been," Oevermo said. "It's really such a shock."
Oevermo married Breivik's father, Jens, when he was four. Breivik would often visit her and his father in France.
"He felt like a happy, normal child," the retired career diplomat told The Associated Press Tuesday. "We had a very good connection, and we liked being together, even when he was a small child. I got the impression she really liked me," she said.
Oevermo and Breivik's father divorced 10 years later, around the time Breivik claims, in his 1,500-page manifesto, that he became estranged from his father. Oevermo, 66, recalled the split, but declined to comment on what precipitated it. She did say, however, that she got the feeling Breivik wanted to have a relationship with his father, though he never spoke of their relationship.
After her divorce, Breivik kept in touch with Oevermo via an occasional e-mail, but she didn't see him very often, she said.
She said she saw him last in March or April of this year when he visited her at her home south of Oslo. He was living with his mother in Oslo at the time, Oevermo said, and stopped by, as he sometimes did, to pay her a friendly house call.
She said Breivik didn't seem agitated during the visit and behaved normally.
He left saying "'see you again soon' or something like that, something very normal," she said. In recent years, Breivik would often speak of a book he was writing, Oevermo said. He was proud of the book, but was evasive about its contents, Oevermo said.
"He just told me he was trying to publish a book. He didn't say what about. He said, 'You'll see when it's finished,"' she said. "He didn't really want to get into it, but he was proud of it."
In recent years, he was working on the book full-time and not working. Before that she said he worked "odd jobs" and tried to establish various companies.
Breivik released a 1,500-page manifesto shortly before carrying out the deadly attacks Friday in Oslo and an island outside the Norwegian capital. In the sprawling document, he details his hatred for the "cultural Marxists" who have allowed Muslims to immigrate to Europe. He claims his attack is part of a coordinated effort by a group calling itself the Knights Templar to rid Europe of Muslims and left-wing politics. Police officials say they're not sure whether such a group exists.
Breivik spoke about politics "like every normal person does, not more than that. He never touch Islam and this hatred for it he must have had for it," Oevermo said.
As for the attack itself, Oevermo said she was horrified to learn the "quite informed and well spoken" man she had known.
"People say, 'I'm shocked.' They don't know what shock is all about, physically and psychologically. It was so unreal. I couldn't believe it. I refused to believe it," she said. "If I'd had some kind of suspicion -- some kind of idea that something was not right with him, it would have been easier, I think."