Former army chief warns Australia not to 'blindly' follow US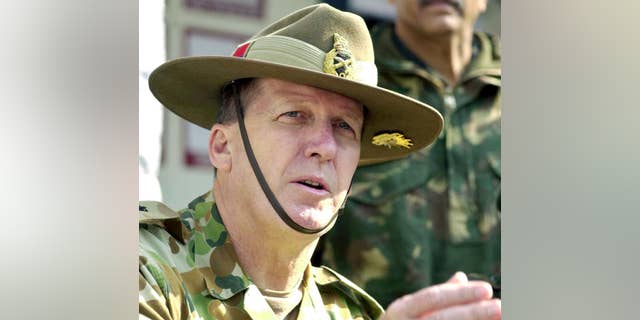 NEWYou can now listen to Fox News articles!
CANBERRA, Australia – A former Australian army chief on Thursday warned Australia against "blindly going along with" the United States after an inquiry was critical of Britain's involvement in the Iraq war.
Australia sent 2,000 troops to support U.S. and British forces in the 2003 invasion. A British government-commissioned report published on Wednesday said former Prime Minister Tony Blair led Britain into an unsuccessful war through a mix of flawed intelligence, "wholly inadequate" planning and an exaggerated sense of the U.K.'s ability to influence the United States.
Peter Leahy, who was chief of the Australian Army from 2002 to 2008, said Australia had to examine how it decides to go to war in light of the report.
"We ... need to be careful of blindly going along with our senior strategic partners," Leahy, now a professor at Canberra University's National Security Institute, told Australian Broadcasting Corp.
"Frankly, some of the decisions the United States, our senior partner in our strategic alliance, have made over the last 20 or 30 years have been a bit crook," Leahy said.
John Howard, who was prime minister when Australia's government committed troops to the war, said Thursday he disagreed with inquiry chairman John Chilcot's conclusion that the invasion happened before diplomatic options had been exhausted.
"If you're saying to me: 'Do I apologize for the decision that I took, the core decision?' Well, I defend that decision. I don't retreat from it. I don't believe, based on the information available to me, that it was the wrong decision," Howard told reporters.
"In the years that have gone by there's been this constant claim that we went to war based on a lie. There was no lie. There were errors in intelligence, but there was no lie," said Howard, who was a staunch friend of U.S. President George W. Bush.
Foreign Minister Julie Bishop, who was part of the government that backed the U.S.-led invasion of Iraq in 2003, described the decision as "a bipartisan position up to a point," despite the opposition Labor Party consistently opposing Australia's military involvement in the war.
Andrew Wilkie, a former Australian intelligence officer who became a whistleblower in 2003 to expose the flaws in the Iraq intelligence, called for an investigation in Australia like the British inquiry.
"It is true that the invasion of Iraq and the war that has happened ever since which we've been an active player in ... is the biggest foreign policy and security blunder in this country's history," Wilkie, who is now an independent lawmaker, told reporters.
"It's clearer now than it's ever been on account of the Chilcot Inquiry in the U.K.," he said.
Australian governments can declare war without asking the permission of the country's Parliament. Some critics argue that war should be authorized by Parliament.