Fire-damaged ferry towed back to San Juan harbor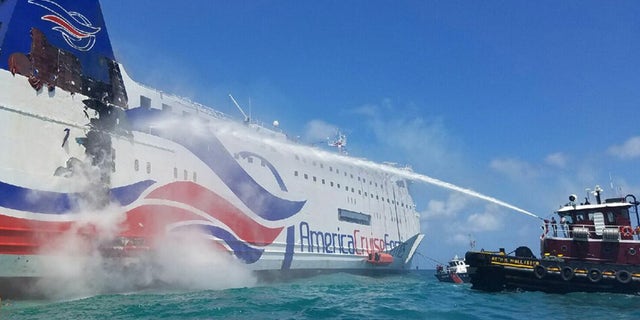 NEWYou can now listen to Fox News articles!
SAN JUAN, Puerto Rico (AP) – The passenger ferry Caribbean Fantasy was towed to San Juan harbor on Saturday after catching fire earlier in the week and grounding four miles off the island's north coast, the Coast Guard said in a statement.
The Coast Guard said a plan to identify and dispose of potentially hazardous as well as non-hazardous waste is being developed. The cause of the fire is being investigated.
Firefighting teams accessed the engine room Saturday morning and found a single contained source of fire remaining, the Coast Guard said. There was no significant damage to the ferry's hull and no signs of pollution coming from the vessel.
The 561-foot (171-meter) ferry was traveling from the Dominican Republic to Puerto Rico when it caught fire Wednesday and forced the evacuation of more than 500 passengers and crew members.
More than two dozen people were hospitalized for smoke inhalation, dehydration and shock. Two passengers suffered broken bones.