Fire at sea forces evacuation of 500 passengers from luxury ship off Puerto Rico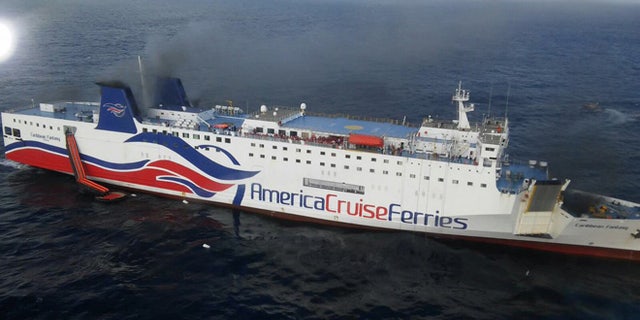 NEWYou can now listen to Fox News articles!
More than 500 passengers were forced to abandon a large ship that runs between Puerto Rico and the Dominican Republic after a fire broke out, sparking a major rescue operation.
Police say smoke was spotted early Wednesday aboard the Caribbean Fantasy, a combination cruise and ferry vessel, as it traveled near Puerto Rico's north coast. Police officer Aurelis Colón said in a phone interview with the Associated Press that the ship has since docked safely in Puerto Rico.
According to reports, U.S. Coast Guard vessels raced out to the massive ship, fearing that a number of people were in the water.
No injuries have been reported, and no one is missing, Coast Guard spokesman Ricardo Castrodad told the AP.
Nestor González Jr., an official with Marine Express, the exclusive agent for America Cruise Ferries, told San Juan's El Nuevo Día that the ship left Santo Domingo on Tuesday evening without any problems. However, as it approached San Juan, smoke was spotted.
"We are investigating (what happened)," he said. "I don't think it was an intentional fire, but I don't have all the details."
The fire erupted in the engine room and spread to the rest of the ship, Miami-based Coast Guard spokeswoman Marilyn Fajardo told AP.
She said passengers slid down into rescue rafts, with 50 people still on board as of late Wednesday morning.
Photos and videos of the scene started circulating online quickly, showing the massive ship with black smoke coming out of it. Coast Guard boats were seen near the ship preparing to take those on board to safety.
The Caribbean Fantasy travels between Puerto Rico and the Dominican Republic, offering customers a luxurious journey that lasts between 8 and 12 hours. According to the Mirror UK, the ship has a casino, piano bar, swimming pool, nightclub and duty-free shops.
It is unclear what caused the fire.
The Associated Press contributed to this report.
Like us on Facebook
Follow us on Twitter & Instagram