Extremist Muslim cleric Qatada loses bid to have deportation appeal heard by EU court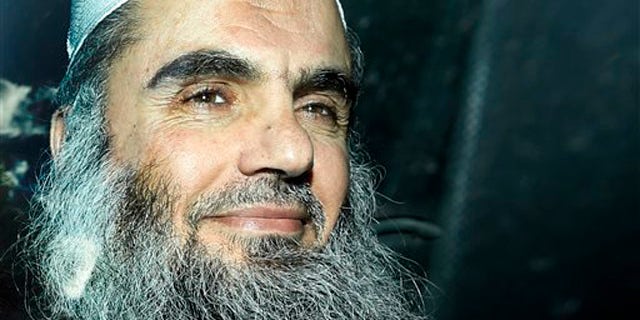 STRASBOURG, France – Extremist Muslim cleric Abu Qatada lost his bid Wednesday to have his deportation appeal heard by the Grand Chamber of the European Court of Human Rights (ECHR).
But the panel of judges revealed his appeal was made within the deadline set by the institution in Strasbourg, eastern France, in an embarrassment for British Home Secretary Theresa May.
Qatada was arrested last month as the British government looked to deport him from London to Jordan.
Once described as "Usama bin Laden's right-hand man in Europe," he was released from prison in central England in February under strict bail conditions after six and a half years in custody.
May visited Amman for talks about his deportation after the ECHR ruled in January he could not be deported without assurances from Jordan that evidence gained through torture would not be used in his trial. May said she had received those assurances.
The ECHR gave Qatada's legal team three months from Jan. 17 to lodge an appeal. May ordered his arrest on April 17, wrongly believing that the deadline to appeal to Europe expired at midnight on April 16.
But attorneys acting on behalf of Qatada lodged the appeal at 11.13 local time on April 17, halting the deportation proceedings.
At the time, May told Sky News, "This is a delaying tactic from Abu Qatada and his lawyers. We have a strong case for deportation... and of course it was only several hours after he and his lawyers had seen the strength of our case, of the government's case, that they decided to make this referral."
Wednesday's ruling will allow the British government to attempt to speed up Qatada's extradition process from the UK.