Ex-boyfriend pleads guilty to murder after searching '16 steps to kill'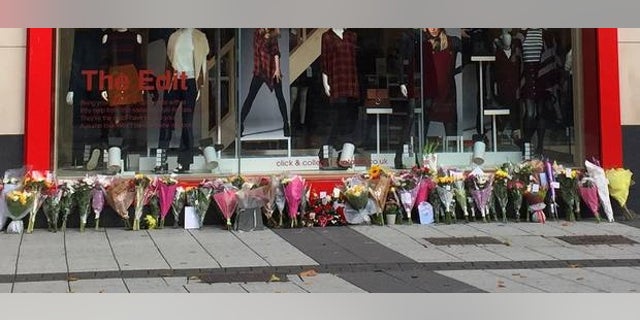 NEWYou can now listen to Fox News articles!
An ex-boyfriend pleaded guilty to murdering a department store worker and her colleague lover in a jealous rage after searching "16 steps to kill someone" online.
FBI SEARCHES HOME LINKED TO MURDER OF INDIANA TEENS, BUT NOTHING FOUND
After ambushing his two victims outside their workplace in Wales and stabbing them to death, Andrew Saunders, 21, sent his dad a message saying: "Thanks for being a pathetic, useless father. Just killed two people. Cheers."
Saunders, who was 20 at the time of the crime, pleaded guilty to killing Lee Simmons, 34, and 21-year-old fashion graduate Zoe Morgan.
He lay in wait for the couple before setting upon Lee first, as Zoe desperately tried to stop the attack.
MAN WOUNDED IN KANSAS BAR SHOOTING SPEAKS AT VIGIL: 'I WISH IT WAS A DREAM'
As she tried to flee, Saunders shouted: "I'm coming to you next bitch," before chasing after her and stabbing her eight times.
Zoe and Lee, who worked together at the Matalan store in Cardiff City Centre, were found dead on September 28 at about 5:50 a.m.
Lee, from Grangetown, was a sales assistant at the store and Zoe, from Llandaff North, was a visual merchandiser.
Saunders was arrested at his family's $1.2 million home outside the city within an hour and charged with the double murder after detectives found a blood-covered knife on the kitchen table.
Prosecuter Philip Bennett told Cardiff Crown Court that Zoe and Saunders had been in a relationship from June 2014 until July 2016, when she split up with him.
He added: "Mark Morgan, her father, stated it was obvious from very early on in the relationship that Andy was very controlling to Zoe."
On one occasion, Zoe told her father that Saunders had "grabbed her around the throat" during an argument, the prosecutor added.
She later met warehouse worker Lee after working shifts together at Matalan and he lovingly dubbed her "my Tinkerbell".
When Zoe told Saunders their relationship was over, he accused her of cheating on him, adding: "You are definitely chatting to someone else. I will kill whoever it is."
He bombarded Zoe with messages threatening to kill Lee – but also saying: "I love you."
The court heard that Saunders plotted the killing. He watched a video called "10 people who got revenge on cheaters" and purchased two knives and latex gloves.
He went on to search online for "16 steps to kill someone and not get caught," "how long do murderers get in prison?" "how to get a gun illegally UK" and "three easy ways to make a bottle bomb (with pictures)."
The court heard he also searched "how to knife someone's neck" and "how to slit someone's neck."
Before he set off to commit the murders Saunders left letters saying: "I think ISIS are the good guys most of the time and that's pretty messed up. No one will forget me."
Bennett said Saunders first confronted Lee just before 6am on the Cardiff street as he walked Zoe to the store.
He added: "He stabbed him in the chest with the knife. Mr. Simmons was saying 'Stop, stop, stop'.
"Zoe Morgan tried to pull the defendant off Mr. Simmons.
"But he turned to her to say,"Get the f--- off me you f---ing c---. I'm coming to you next bitch.'"
CCTV footage showed how Zoe desperately tried to escape after she battled to pull Saunders off Lee.
She can be seen running to a store where Saunders caught up with her and punched her "full force" before stabbing her.
Both Zoe and Lee were stabbed eight times.
Zoe lived with her heartbroken parents Mark, 49, and Julie, 48, and brother Nathan, 23, in Llandaff North, Cardiff.
Zoe's mother Julie Morgan, told the court: "Since losing Zoe our world has been turned upside down. I think about her constantly and how she must have suffered.
"She was a beautiful, bright and hardworking girl. She was a real home bird.
"We now struggle to stay in our own home as everything reminds us of her. Her father Mark struggles to hide his upset.
"All our dreams and plans are ruined. He has not only taken Zoe from us but destroyed our lives.
"Since Zoe's death, nothing seems to look the same. I feel sick at the thought of what happened there.
"She may not be here with us but she will always stay with us through life."
Lee and Zoe's romance blossomed at the store in Cardiff's busy Queen Street shopping centre and they were described as "being in the first flush of romance."
Lee had worked at the store since it opened in October 2014.
A statement from his dad, Alfred, read to the court said: "My family and I will forever grieve this awful loss.
"Lee found love in Zoe and I'm so happy for that.
"Lee was only 33 years old and I should have gone before him. I can't look at the photographs I have of Lee as a child, it hurts too much.
"I loved him so much. I only ever had one child and I cannot bring back what has gone."
Saunders was described as a "gentle giant" by shocked former schoolmates after his arrest over the double murder.
Defense attorney Winston Roddick said: "He is genuinely remorseful for what he has done and more than once said he wishes to turn the clock back."
The sentencing will resume on Tuesday.