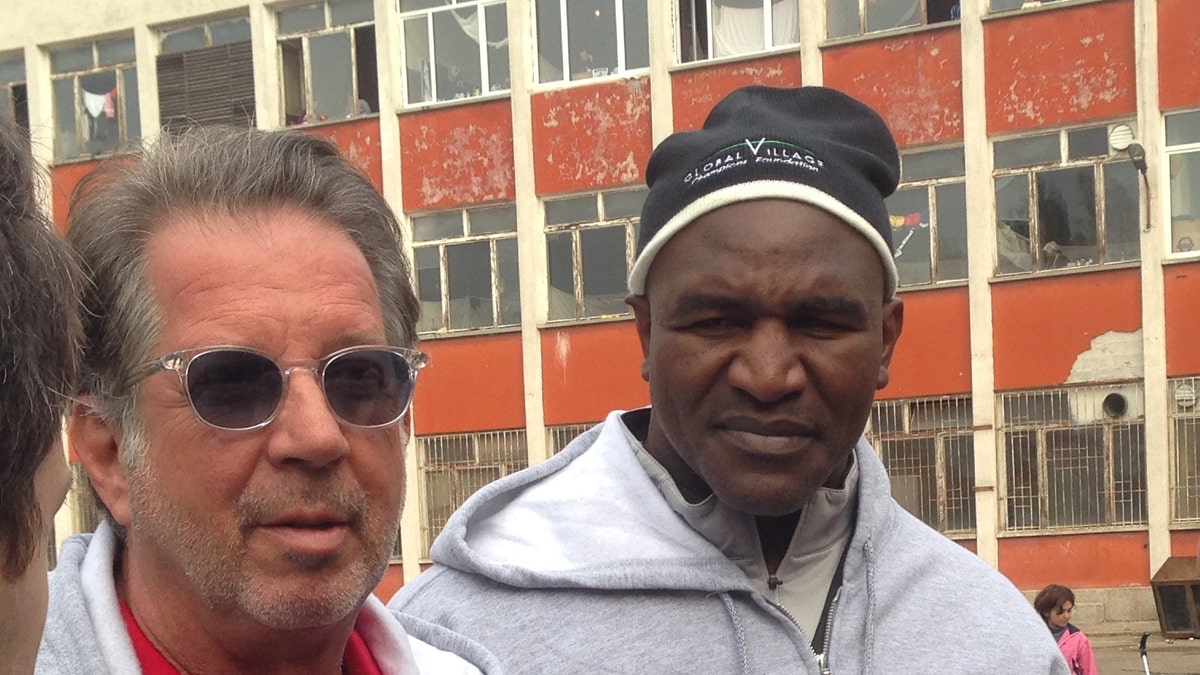 Former heavyweight champion Evander Holyfield and a 1960s rocker-turned-humanitarian are taking off the gloves to help Syrian refugees make a new life in Bulgaria.
Holyfield, the only four-time heavyweight champion in history, is working with one-time Kingsmen singer Yank Barry to help an estimated 6,500 Syrian refugees who have flooded into the Eastern European nation since a civil war tore apart their homeland. Holyfield said he hopes his own popularity will inspire others to take up the cause.
[pullquote]
"Somebody helped me and that gives me the opportunity to help someone else," Holyfied, who serves as an International Goodwill Ambassador for Barry's NGO Global Village Champions Foundation, said in a Skype interview with FoxNews.com from Bulgaria's capital Sofia.
With European Union aid to desperate Syrian refugees trickling in, Barry, a Nobel peace prize nominee whose band was famous for the hit, "Louie, Louie," said the humanitarian problem is worsening by the day. In what is already believed to be the largest refugee crisis since the end of World War II, some 9 million Syrians have been displaced, out of a population of roughly 23 million. Some 2 million have fled to countries including Iraq, Bulgaria, Egypt, Lebanon, Jordan and Turkey.
"The world has not yet realized how big this crisis is," Barry told FoxNews.com. In Bulgaria alone, the number of Syrian refugees is expected to more than double to 15,000 by year's end.
Barry, who went on to become a successful music producer, said he has spent $1 million to secure housing in Sofia for more than 50 Syrian refugees. His work has prompted the Bulgarian media to call him "Schindler," in a nod to Oskar Schindler, the German industrialist who rescued Jews during the Holocaust.
"I'm far from Schindler, but if that is what it takes ..." said Barry, who feels drawn to Bulgaria amid the wave of refugees because two of his cousins escaped to Bulgaria during the Holocaust and, he said, "the Bulgarians were very protective of Jews."
Holyfied took the position with Barry's group last year, succeeding another boxer, Mohammed Ali. Ali and Barry jointly launched the foundation in 1995, and it has provided more than 900 million meals to starving people across the globe. The group just sent five million meals to the victims of the typhoon Haiyan in the Philippines.
Mahmoud, a 39-year-old Syrian refugee who just moved into a Sofia hotel with his wife and three children, told FoxNews.com landlords have declined to rent rooms to Syrians. He credited Barry with finding hotel rooms for the refugees.
According to UN and human rights officials, Syrian refugees are living in deplorable conditions in Bulgaria. The poor Eastern European country is in dire need of assistance to absorb the daily waves of refugees. Mahmoud, who cannot be identified by his real name because his family members remain in regime-controlled Syria, said he protested in 2011 against the dictator Bashar al-Assad because he wanted freedom.
In a subsequent crackdown, Syrian security forces arrested Mahmoud and tortured him in two prisons, he said. They "hanged me from my feet for eight hours," he said.
Holyfield and Barry plan to continue with his humanitarian work in Bulgaria, and Holyfield said he hoped his work would inspire others to pick up the cause.
"People copy people, the soft-spoken 51-year-old retired fighter said.
Benjamin Weinthal reports on Syria for FoxNews.com and is a fellow at the Foundation for the Defense of Democracies. Follow Benjamin on Twitter@BenWeinthal