Eurozone Releases Vital Loan Installment to Greece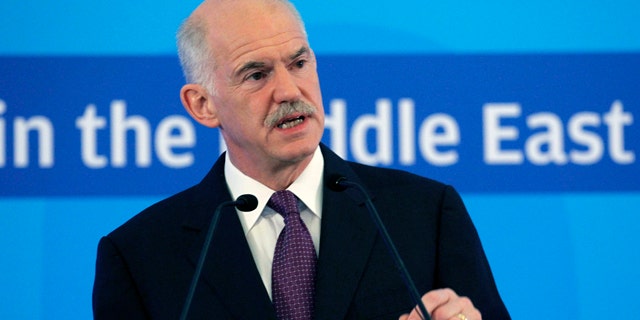 BRUSSELS – Greece will get a vital loan installment by July 15, saving it from an impending default, while work continues on a second bailout for the struggling country, eurozone finance ministers said Saturday
The ministers signed off their portion of the euro12 billion ($17.39 billion) loan tranche in an evening conference call. The International Monetary Fund is expected to approve its part of the financing next week.
The ministers also reiterated that they would continue to support Greece beyond the euro110 billion rescue package that was granted last May, but left a final decision on the new aid plan until the involvement of banks and other private creditors has been figured out.
"The precise modalities and scale of private sector involvement and additional funding from official sources will be determined in the coming weeks," the ministers said.
Greek Finance Minister Evangelos Venizelos said in a statement that his colleagues had committed to getting the new support ready in time for the next installment of the existing bailout in September.
Eurozone ministers stressed, however, that the new support would be conditioned on "continued strong commitment to implementing fiscal consolidation measures as well as ambitious and concrete structural reform and privatization plans," setting the stage for further dramatic showdowns with Greek authorities, who have been struggling to hit targets set out in the original bailout program.
The release of the fifth tranche of the bailout money was preceded by weeks of back and forth between the Greek government and the country's international creditors, which culminated in the Greek parliament reluctantly passing new austerity measures earlier this week.
In his statement, Venizelos stressed that Greece was able to get the money because his Socialist party managed to push the measures through parliament.
"What is crucial now is to implement the parliament's decisions swiftly and effectively so that we can gradually get out of the crisis to the benefit of the Greek economy and its citizens," he said.
European finance ministries have already started talks with banks on a voluntary debt rollover, where the lenders would buy new Greek bonds as their old ones mature -- thereby lowering the total amount of money the eurozone and the IMF have to chip in.
However, so far the banks and ministries have been unable to nail down the terms of such a rollover, which have to avoid a negative opinion from rating agencies. The European Central Bank has warned that a rating that sees Greece even in partial default on its debts could spark new unrest on financial markets and drag down other struggling eurozone countries.
French and German banks have already indicated that they would agree to a rollover, taking a plan drawn up by the French banking federation as a base. The plan would see banks reinvesting 50 percent of their holdings in Greek bonds with a maturity of up to 30 years, while an extra 20 percent would flow into a special AAA-rated fund that would act as collateral for the long-term bonds.
However, several analysts have already pointed out that such a scheme would be very costly for Greece and most believe that even a second loan package will not be enough to get Greece back on track, since it won't reduce a debt load that is already approaching 160 percent of economic output. They warn that private investors will likely have to accept a cut to their holdings eventually, a move that the eurozone has so far ruled out.