European court rejects mass murderer's appeal that claimed jail violates his rights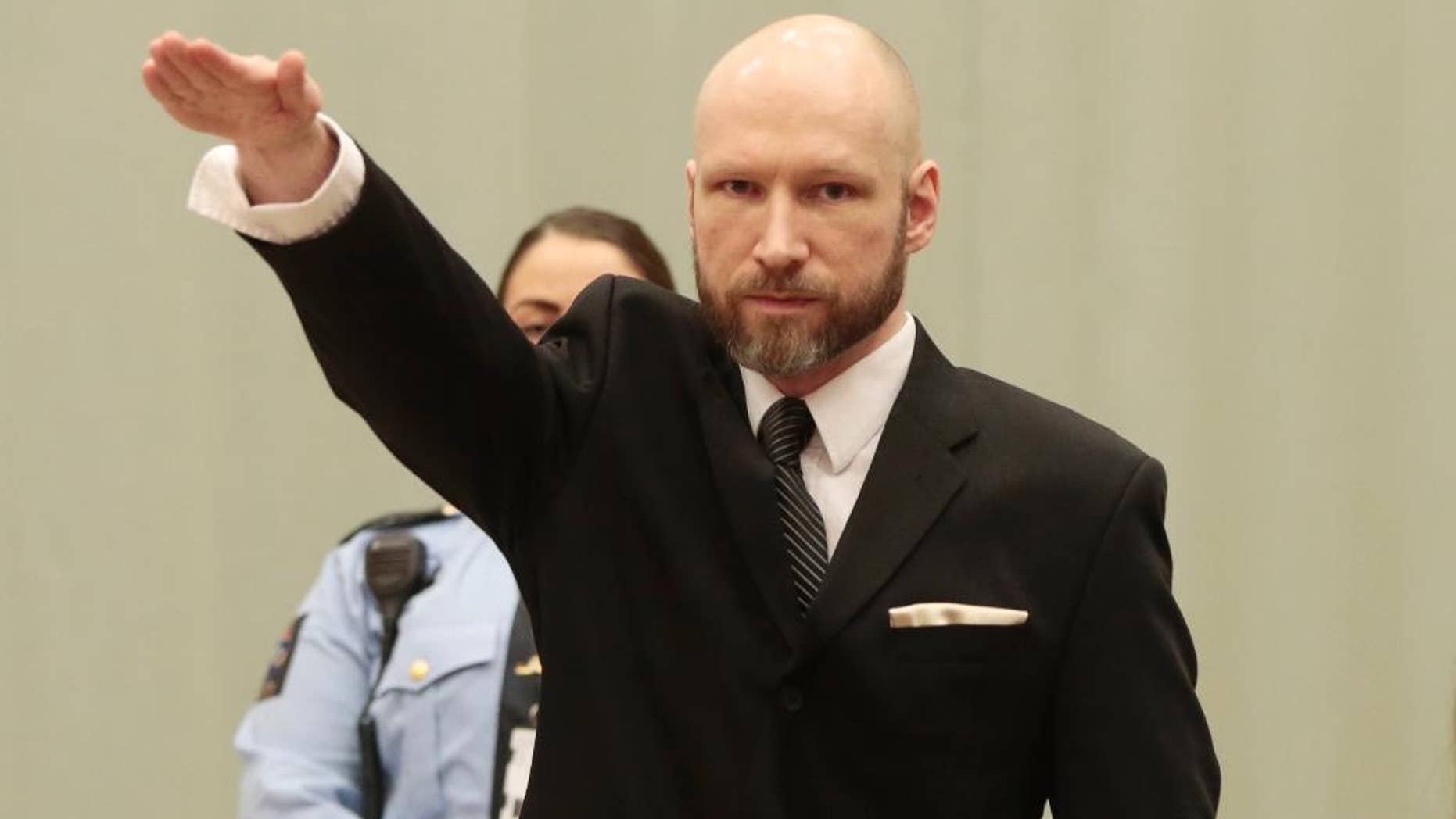 COPENHAGEN, Denmark – The European Court of Human Rights rejected an appeal Thursday by Norwegian mass murderer Anders Behring Breivik, who claimed his incarceration violated his rights.
The Strasbourg, France-based court said Breivik, who is serving a 21-year sentence for killing 77 people in in 2011, challenged the conditions of his detention, particularly being kept isolated from other prisoners.
But it found his confinement "doesn't reveal any violations" of the 1950 European Convention on Human Rights and therefore "rejected the application as inadmissible for being manifestly ill-founded."
The three judges who considered the case said the decision was final.
Breivik is held in a three-cell complex in Norway where he can play video games, watch TV and exercise. He has complained about the quality of the prison food, having to eat with plastic utensils and not being able to communicate with sympathizers.
Breivik, who has legally changed his name to Fjotolf Hansen, also claimed that being subjected to frequent strip searches and the time he spent often handcuffed early in his prison term violated his rights.
Last year, Norway's top court ruled that Norwegian authorities had not violated his human rights by isolating him in prison.
Breivik's lawyer, Oeystein Storrvik, told Norwegian news agency NTB the ruling was "thorough" and there are currently no plans to contest the terms of Breivik's imprisonment through another legal challenge.
"There is a limit for how long such incarceration can continue without a person suffering from it," Storrvik said. "The impression I have gotten from recent conversations with my client is that the isolation is getting worse and worse."
Breivik meticulously planned the bomb-and-shooting attacks that claimed 77 lives on July 22, 2011. He first set off a car bomb outside the government headquarters in Oslo, killing eight people and wounding dozens.
He then drove to the island of Utoya, 40 kilometers (25 miles) away, where he opened fire at a summer camp of the left-wing Labor Party's youth wing. Sixty-nine people were killed, most of them teenagers, before Breivik surrendered to police.