EU police officer in Kosovo shot dead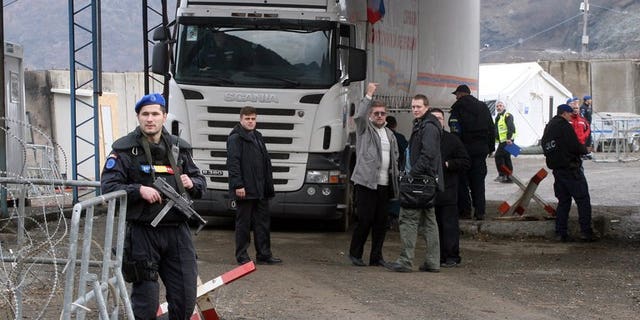 KOSOVSKA MITROVICA, Kosovo (AFP) – Gunmen shot dead a member of the European Union's police force in Kosovo's flashpoint northern region Thursday, in the first deadly attack on the mission since its creation five years ago.
The attack on an EULEX convoy in the region controlled by a majority of ethnic Serbs who reject Kosovo's 2008 declaration of independence comes ahead of November polls and amid EU pressure on Belgrade and Pristina to patch up their differences for accession talks to begin.
At around 7:30 am (0530 GMT) "two EULEX vehicles, carrying six staff members... came under fire from unknown persons in the vicinity of the municipality of Zvecan", the mission said in a statement.
"The incident resulted in the death of one EULEX staff member," it said without elaborating on the nationality of the victim.
The head of the hospital in nearby Kosovska Mitrovica, Milan Ivanovic, told AFP that an EULEX member was admitted with two bullet wounds and pronounced dead moments later after resuscitation efforts failed.
EULEX condemned in the "strongest terms possible this act of cowardly violence against its staff members," the statement said, adding that a probe into the murder had been launched.
"The area has been sealed off. No effort will be spared in bringing the perpetrator to justice."
EULEX was launched in 2008 just months after Pristina unilaterally declared independence from Serbia.
It is mandated to oversee the rule of law in Kosovo and tackle high-profile cases that are sensitive for the local judiciary.