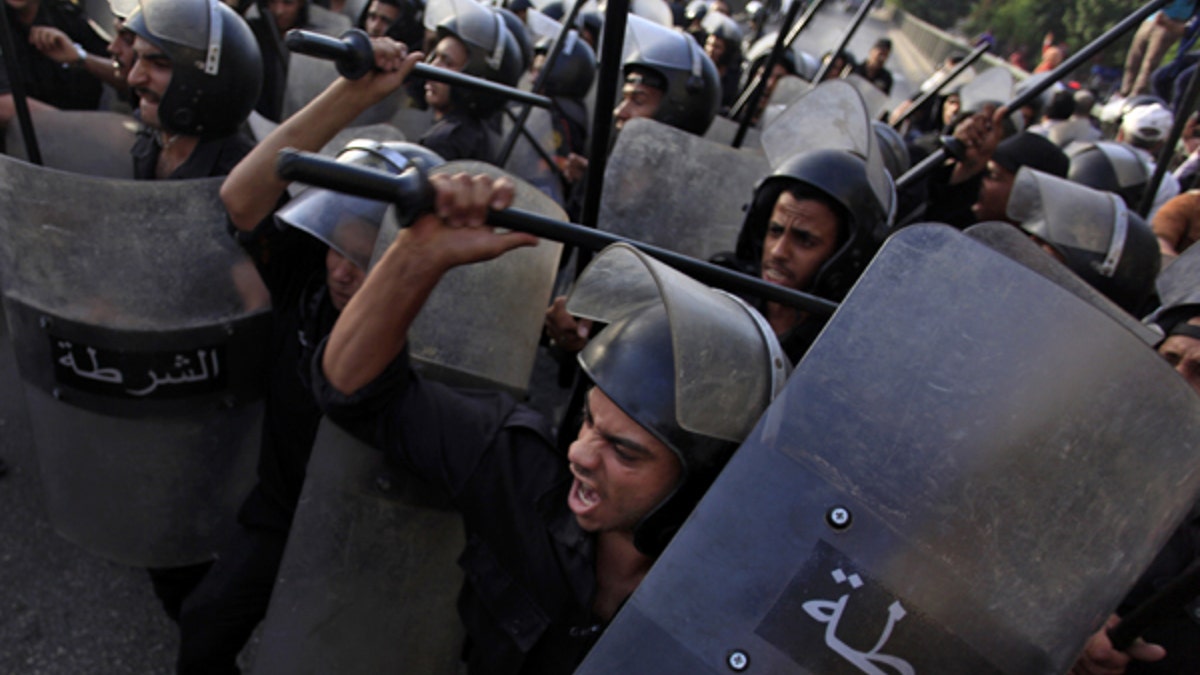 CAIRO – Egyptian Islamist groups called Wednesday for demonstrations to counter this month's planned opposition protest campaign against the rule of the country's Islamist president, raising concerns of a new round of turmoil.
The Islamists also accused a group of prominent businessmen and former regime lawmakers of plotting violence to destabilize the country, but presented no evidence to back the serious charges. The allegations were seen as an attempt to discredit the opposition that is organizing protests against President Mohammed Morsi.
Public discontent stems from a variety of ills, including an economic downturn, electricity and fuel shortages, attempts to monopolize power by installing his backers in state institutions, as well as a new crisis over Ethiopia's plan to build a dam across a main branch of the Nile River, threatening Egypt's vital water supply.
The Islamist groups, including Morsi's Muslim Brotherhood, called for rallies on June 21 during a news conference that underlined growing political tensions and polarization ahead of June 30, the anniversary of Morsi's taking office, when opponents plan huge demonstrations to demand his ouster.
The groups named two businessmen, the owner of a private TV station, two parliamentarians and Gulf countries in their accusations of plots against Egypt.
The opposition, including some Islamists, criticized the charges as baseless conspiracy theories, claiming they showed Brotherhood nervousness ahead of June 30.
Mubarak loyalists have mostly kept a low profile since Ahmed Shafiq, Mubarak's last prime minister, was defeated by Morsi in a 2012 election for president.
The liberal and secular-leaning National Salvation Front has emerged as the main opposition. Some of its figures were prominent in the 2011 uprising that toppled Mubarak, but the Islamists did not name any of its members in its accusations Wednesday.
Mohammed el-Amin, owner of Egyptian CBC TV channel, told the state-run Al-Ahram newspaper that he will sue those who accused him. He called the charges a "public terrorist threat."
CBC hosts some of the Brotherhood's most prominent critics, including liberal satirist Bassem Youssef, who has been investigated for insulting the president. Morsi and other Brotherhood figures often denounce Egyptian media that they claim are biased against them.
Reading out a joint statement at the news conference, Nasr Abdel-Salam, head of the Construction and Development Party, the political arm of former militant Gamaa Islamiya group, said they had obtained information about plans to instigate violence starting June 14.
He claimed the businessmen are hiring thugs to set fire to buses that will transport Brotherhood supporters from the provinces to Cairo for rallies and set fire to offices of Islamist groups across the country. Dozens of Brotherhood offices have been torched during previous rounds of unrest.
Mai Wahba from of the anti-Morsi campaign said that the list of accusations "shows their fear of June 30. This is what Mubarak regime use to do before the revolution. I see the same fear of that day." She was interviewed by the privately owned ONTV station.
One major Islamist party, the ultraconservative Salafi Al-Nour, stayed away from the news conference. It put out a statement complaining of "unprecedented discontent" in the street and among Islamists and criticizing talk of conspiracies.
"Such rallying and swearing by the two sides creates a war atmosphere, as though we are going for a confrontation where everyone will lose and there will be no victor," the party said in a statement on its Facebook page. "We are not in a war or a battle between two camps, the camp of faith and the camp of infidels."
It called for a national dialogue to avert confrontations.
Also Wednesday, Gen. Mustafa Baz, assistant interior minister responsible for prisons, said the government will not permit prison breaks similar to those of the uprising in 2011 and put a "tight plan" to secure all 42 prisons around June 30. He said "dangerous criminal elements" will be moved from the police stations to prisons before the protests.
Of 19 former regime officials in prison, Mubarak, his two sons and six security officials are being retried on charges of responsibility for the killings of protesters during the uprising.
Many other officials have been released after court acquittals or at the end of their legal detention periods.
In a verdict Wednesday, 41 of Egypt's most notorious State Security officers, charged with destroying national security documents shortly after the uprising, were acquitted.
The documents were found burned and shredded when protesters stormed State Security offices in March 2011. It partially stymied efforts by rights groups to bring solid evidence of decades of police abuse, corruption and excessive use of force.
Egypt's State Security Services, which Mubarak gave a free hand to suppress dissent, were among the most powerful symbols of his regime.