Egypt pardons two jailed Al Jazeera journalists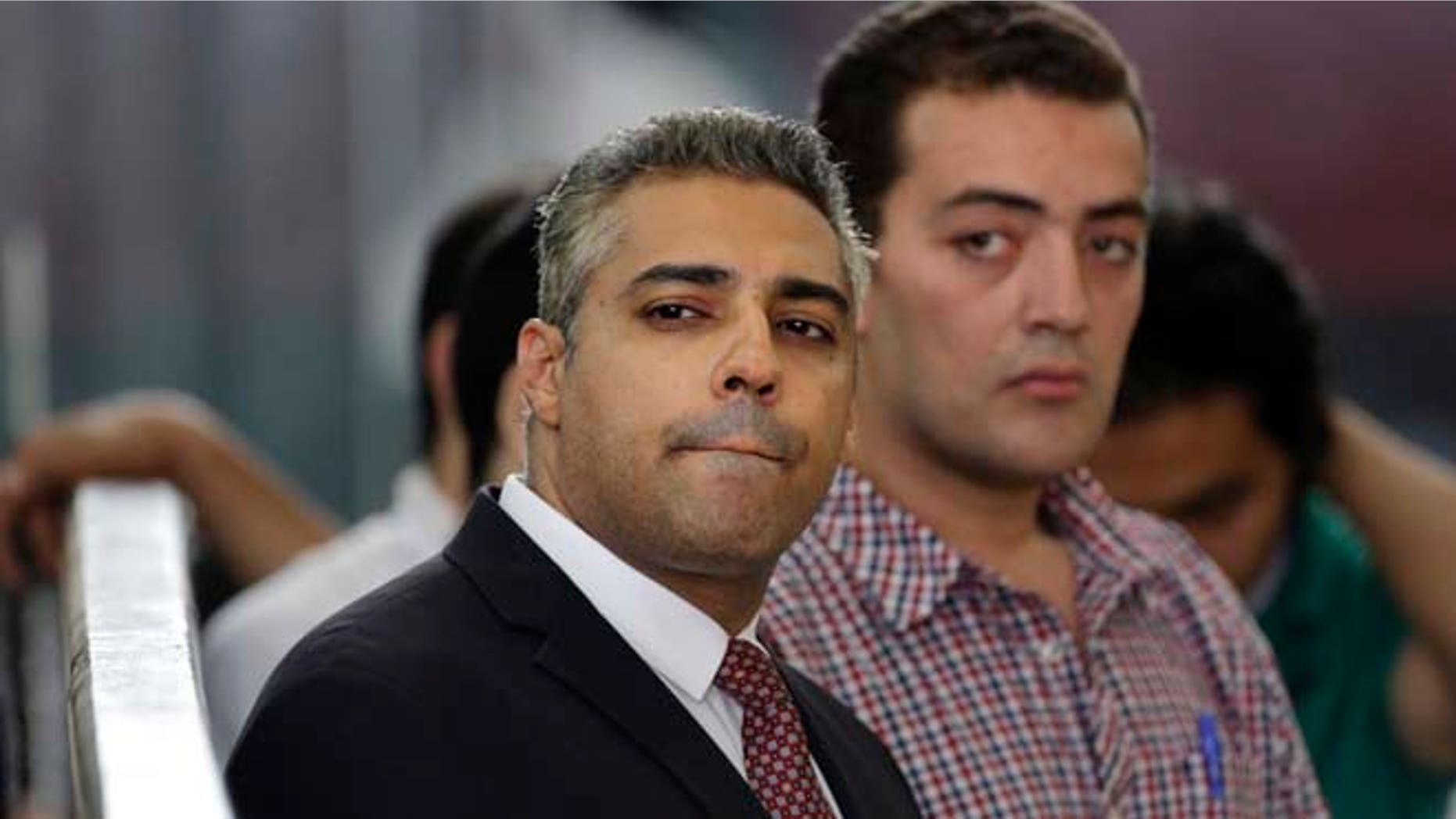 Egyptian President Abdel-Fattah el-Sissi pardoned two Al-Jazeera English journalists on Wednesday, state media and the lawyer for one of the reporters said, a dramatic development in a case widely condemned by human rights and international organizations.
Canadian journalist Mohamed Fahmy and his colleague Baher Mohammed are expected to be released later in the day, along with dozens of human rights activists.
"I don't know what to say. It is done. Thank God, thank God," Fahmy's brother Adel told The Associated Press.
They were among a group of 100 people pardoned by el-Sissi ahead of the Muslim holiday of Eid al-Adha. The pardon also comes one day before el-Sissi is expected to travel to New York to attend the United Nations General Assembly.
A third journalist from the Al Jazeera case, which includes Australian journalist Peter Greste, also was pardoned but has not been identified, Sky News reports.
The three were sentenced to three years in prison last month for airing what a court described as "false" and biased coverage.
The lengthy trial is entangled in part of a larger political conflict between Egypt and Qatar, where Al-Jazeera is based, following the Egyptian Army's 2013 ousting of Islamist President Mohammed Morsi, a Muslim Brotherhood member.
The case began in December 2013 when Egyptian security forces raided the hotel suite Al-Jazeera was using as a reporting base. The journalists began operating in the hotel after the Al-Jazeera English office was raided by police. Authorities arrested Fahmy, Greste and Mohammed, later charging them with allegedly being part of Morsi's Muslim Brotherhood, which authorities have declared a terrorist organization. They were also charged with airing falsified footage intended to damage national security.
The three men were first convicted on June 23, 2014, with Greste and Fahmy sentenced to seven years in prison and Mohammed to 10 years for also being found with a bullet casing. That ruling was later overturned on appeal by Egypt's Court of Cassation, which said the initial proceedings violated the defendants' rights. They were convicted in a retrial last month. Fahmy gave up his Egyptian nationality during the trial in hopes of being deported to Canada.
A spokeswoman for Canada's foreign affairs department, Rachna Mishra, told the Associated Press that Canada is "pleased" with the pardon and looks "forward to Mr. Fahmy reuniting with his family and loved ones, and his return to Canada."
The Associated Press contributed to this report.