Ecuador Passes Restrictive Media Law Championed By President Rafael Correa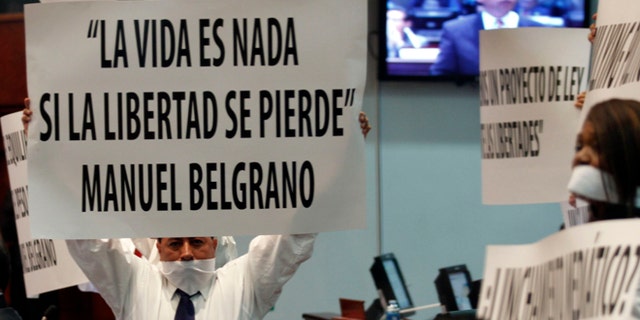 QUITO, Ecuador – Creating official media overseers, imposing sanctions for smearing "people's good name" and limiting private media to one third of radio and TV licenses, Ecuador's congress on Friday passed a restrictive new media law championed by President Rafael Correa.
The country's privately owned media, which is largely in opposition hands, joined press freedom groups in calling the bill an authoritarian measure to control dissent.
It passed by a 108-26 margin in the Correa-controlled congress.
Its sponsor, lawmaker Mauro Andino, said the proposal would protect freedom of speech, but "with a focus on everybody's rights, not just for a group of the privileged."
Carlos Lauria, Americas director of the New York-based Committee for the Protection of Journalists, said the legislation "could severely limited freedom of expression" by giving the government ample discretion to sanction dissenters and thus "opens the door to government censorship of the press."
It "establishes finally one of the key objectives of Correa's rule, which is to silence critics of his government."
Diego Cornejo, director of the Ecuadorean Association of Newspaper Editors, said the bill creates "a kind of information totalitarianism," reflecting a state that "wants to impose only one viewpoint about reality."
Among provisions in the bill's 119 articles is the prohibition of the "media lynching," defined as having the effect of damaging a person or institution's prestige or public credibility without sufficient foundation.
The bill, which Correa is expected to sign into law, creates a series of government commissions empowered to exact civil and criminal sanctions against journalists who its members deem to violate the standards set by the law.
It also specifies that Ecuador's broadcasting spectrum be redistributed so that state-run media control 33 percent of frequencies while community and other grassroots radio stations control 34 percent, leaving the rest to private media.
The measures are similar to ones enacted in Venezuela under the late President Hugo Chavez, a Correa ally. Like Chavez and his heirs, Correa has used loyal institutions including the courts to try to squelch opposition voices.
Correa is also leading a campaign among allied leftist governments in the region to limit the jurisdiction of the special rapporteur at the Inter-American Commission on Human Rights, who has been highly critical of his government.
Highly popular for his generous social spending. He was re-elected to a third term in February.
Based on reporting by The Associated Press.
Follow us on twitter.com/foxnewslatino
Like us at facebook.com/foxnewslatino