Economist Monti Tapped to Form New Italian Government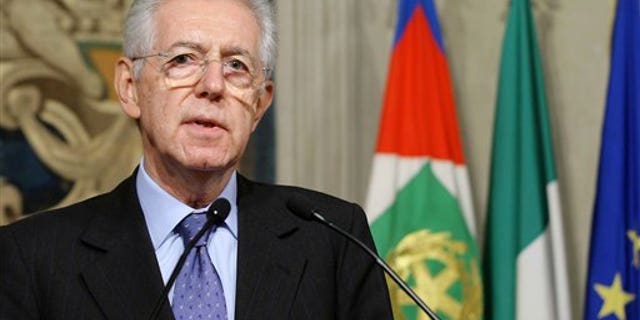 MILAN – Economist Mario Monti accepted the monumental task Sunday of trying to form a new government that can rescue Italy from financial ruin, expressing confidence that the nation can beat the crisis if its people pull together.
His selection came a day after Silvio Berlusconi reluctantly resigned as premier, bowing out after world markets pummeled Italy's borrowing ability, reflecting a loss of faith in the 75-year-old media mogul's leadership. Berlusconi quit after the Italian parliament approved new reform measures demanded by the European Union and central bank officials -- but even those are not considered enough to right Italy's ailing economy.
"There is an emergency, but we can overcome it with a common effort," Monti told the nation, shortly after Italy's president formally asked him to see if he can muster enough political support to lead the country out of one of its most trying hours since World War II.
"In a moment of particular difficulty, Italy must win the challenge to bounce back, we must be an element of strength and not weakness in the European Union, of which we are founders," he added.
Monti must now draw up a Cabinet, lay out his priorities, and see if he has enough support in Parliament to govern. Rival political parties offered various degrees of support, including one demand from Berlusconi's party -- the largest in Parliament -- that his government last only as long enough as it takes to heal Italy's finances and revive the economy.
The 68-year-old economics professor is no pushover, earning a reputation for staring down challenges as a tough EU competition commissioner. But he'll have to win a confidence vote in Parliament before he can lead the nation.
Monti told reporters he will carry out his task "with a great sense of responsibility and service toward this nation." Italy must heal its finances and resume growth because "we owe it to our children, to give them a concrete future of dignity and hope."
Berlusconi's party also demanded that only technocrats -- not politicians -- make up Monti's Cabinet in exchange for its crucial support.
Monti faces a daunting challenge -- preventing an Italian default that could tear apart the 17-nation eurozone and send Europe and the U.S. into new recessions.
Italy's economy is hampered by high wage costs, low productivity, fat government payrolls, excessive taxes, choking bureaucracy, and an educational system that produces one of the lowest levels of college graduates among rich countries.
In addition, as the third-largest economy in the eurozone, Italy is considered too big for Europe to bail out like Greece, Portugal and Ireland have been.
The next Italian government needs to push through even more painful reforms and austerity measures to deal with $2.6 trillion in debt -- about 120 percent of the country's economic output. And many of those debts are coming due soon -- Italy has to roll over more than $410 billion of its debts next year alone.
Some political forces, including some from Berlusconi's ranks and that of his allies, have been clamoring for early elections. But President Giorgio Napolitano cited approaching treasury bond auctions -- one as early as Monday and other bonds maturing in the next few months -- as a main reason he decided to "avoid early elections and the consequent government vacuum" until a new one could be formed.
Asked by journalists if he thought Monti could form his government by week's end, Napolitano responded positively.
The yield on Italian 10-year bonds fell to 6.48 percent Friday, below the crisis level of 7 percent reached earlier last week, a level that forced the three other EU nations into international bailouts.
Centrist and center-left parties in the opposition during Berlusconi's rule offered their support for Monti.
"Italian parties are at fork in the road. Either they speculate on the situation, hoping that they can get some campaign capital from it, or they take up their responsibilities to save the country," said centrist opposition leader Pier Ferdinando Casini.
The leader of Italy's largest labor confedation, the left-wing CGIL, Susanna Camusso, expressed hope that Monti could pull together a government capable of "giving back the international credibility that we have lost in these years."
Union leaders, along with industrialists, have accused Berlusconi of doing virtually nothing to create jobs during his tenure.
Berlusconi's main ally in his 17 years of politics, Umberto Bossi, said his Northern League, a regional party with its power base in the affluent north, would stay in the opposition and insisted early elections are the true solution.
"We won't give him any blank check," Bossi said of Monti.
Warmly welcoming the new prime minister-designate were European Commission President Jose Manuel Barroso and European Council President Herman Van Rompuy.
"We believe that it sends a further encouraging signal," following Italy's final passage Saturday of new austerity measures, they said in a statement, adding that the EU will keep monitoring Italy's implementation of the measures "with the aim of pursuing policies that foster growth."
The measures that were passed Saturday include raising the retirement age to 67 by 2026 and to 70 by 2050 and selling off state property.
Some analysts expect the return of the property tax on primary residences, a tax that Berlusconi had abolished.
A crowd of supporters applauded Berlusconi on Sunday at his private residence in Rome -- in sharp contrast to the hundreds Saturday night who heckled and jeered him and popped open bottles of sparking wine to toast his departure.
It was an ignoble end for the billionaire media mogul, who came to power for the first time in 1994 using a soccer chant "Let's Go Italy" as the name of his political party and selling Italians on a dream of prosperity with own transformation from cruise-ship crooner to Italy's richest man.
While he became Italy's longest-serving postwar premier, Berlusconi's three stints as premier were tainted by corruption trials and accusations that he used his political power to help his business interests. His last term was marred by sex scandals, "bunga bunga" parties and criminal charges he paid a 17-year-old girl to have sex -- accusations he denies.
Berlusconi appeared on TV in a recorded message Sunday, pledging to stay a vigorous political force in Parliament, where he is still a lawmaker.
"(I) resigned out of a sense of responsibility and of state, to ward off more speculative financial attacks on Italy," he said.
Looking somber, Berlusconi said he was sad that his "generous gesture" of resignation was greeted by "hoots and insults" from the crowds.