During dramatic capture, drug lord 'Chapo' Guzmán nearly tunneled to freedom. Again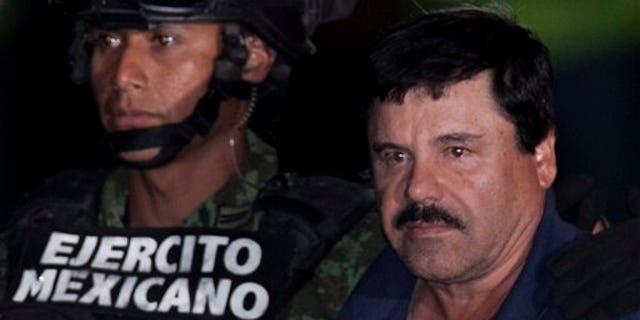 Culiacán, Mexico – It was raining Friday morning at 4:30 a.m. in the Pacific coastal city of Los Mochis, in the northern Mexican state of Sinaloa.

Most inhabitants of Las Palmas, an affluent neighborhood of the city, were sound asleep when a small contingent of Mexican Marines creeped closer to the residence on the corner of Jiquilpan Boulevard and Río Quelite street.

They approached the residence where they had tracked down Joaquín "El Chapo" Guzmán Loera, the leader of the Sinaloa Cartel and the world's most wanted man. Inside, the kingpin was holed up with his head of security, Orso Iván Castelúm, alias "El Cholo," and five heavily armed bodyguards.

Unlike the other inhabitants of the neighborhood, the seven men inside the two-story building were well aware of the impending danger. As the Marines approached, cartel triggermen began shooting, according to an official statement by the authorities.

A two-hour gun battle ensued.

Eyewitnesses told local media that the crackling sounds of automatic weapons were interspersed with louder bangs of heavier-caliber weapons. One marine was wounded, and his companions called in the air cavalry.

Helicopters began to circle overhead.

As the battle continued, the drug lord's bodyguards fled onto the neighboring rooftops. All of them were eventually killed on different nearby houses. Photos published by local media showed that most of them had been shot in the head.

But the Marines still couldn't find Guzmán and his lieutenant.

The pair had fled through a tunnel into the drainage system. Guzmán's main legacy as a cartel boss just may be tunneling. His Sinaloa Cartel is known for elaborate tunnels that cross the border and let out miles inside the United States.

Guzmán's July escape from Mexico's Altiplano prison involved a tunnel from his cell's shower drain to a building a mile away.

And, almost exactly two years before, weeks before he was arrested in the resort city of Mazatlán in February 2014, law enforcement had tracked him down to a residence in the state capital of Culiacán, but the kingpin snuck away through an intricate system of tunnels that led to the sewers.

The world's most wanted drug lord, whose escape from a high-security prison last year was a national embarrassment in Mexico, almost succeeded again on Friday.

After they failed to locate the kingpin and Castelúm in the house in Los Mochis, the Marines noticed a hole in the ground – it was a tunnel leading to the sewers.

The Marines scrambled into the tunnels and began a furious search for the drug lord, which local media said lasted as long as two hours.

It turned out that Guzmán and Castelúm had crawled through a tunnel just over three feet high under several blocks and emerged, according to local media in Sinaloa, at around 8:20 a.m. about a mile away from the house.

The night's rains had turned the floor to a gray sludge that stained the shirts of both fugitives. Law enforcement officers later found an M-16 automatic rifle with grenade launching capabilities in the tunnel.

After they emerged, Guzmán and Castelúm hijacked a car and tried to race toward freedom. While moving north at breakneck speeds on federal expressway 15, they were overtaken by Federal Police and surrendered shortly afterward.

The policemen took Guzmán and Castelúm to Doux, a nearby sex motel, where the suspects were kept handcuffed until the Marines arrived and took them into custody. Guzmán was flown to Mexico City later that day, where jubilant authorities presented the world's most wanted man to the press.

"The operation was extremely well planned and more than well resourced, with equipment and a vast number of Mexican Marines who slowly saturated the state of Sinaloa and the drug area known as the Golden Triangle," Mike Vigil, former chief of operations for the U.S. Drug Enforcement Administration, told Fox News Latino.

"Through fixed and mobile roadblocks along strategic choke points and intense searches of suspect ranches and homes, the pressure on Chapo escalated," Vigil said. "It began to constrict the area in which he was able to maneuver and hide. Eventually, it forced him into Los Mochis, and he now, once again, was placed in a precarious situation that led to his capture. The marines were like a giant anaconda that smothered Chapo's lifeline."

Unlike Guzmán's previous capture in February 2014, the U.S. does not appear to have played a significant role.

"U.S. authorities have constantly provided information gleaned from technical and human sources since Chapo's escape," Vigil told FNL. "However, in the capture of Chapo in Los Mochis they apparently played little to no role. When I called the DEA on the morning of his capture, most of those I spoke to had not heard of his arrest."

The cinematic quality of Friday's arrest was almost eclipsed on Saturday, when Rolling Stone published a feature by actor Sean Penn, who had met the drug lord in October and spoken with him for several hours. It is believed to be the first interview the kingpin has given since his first arrest in 1993.

An anonymous law enforcement official told the Associated Press on Saturday that it was the interview with Penn, brokered by Mexican actress Kate del Castillo, that helped authorities to track down Guzmán. Penn described Guzmán's desire to have a film made about his life, in which del Castillo would play a part.
But authorities say it was a tip by a neighbor that led to his dramatic capture.

According to the law enforcement official cited by the AP, the interview with Penn took place in Tamazula, a remote community in the neighboring state of Durango.

The same location would be raided by Mexican Marines only a few days later, and Guzmán only narrowly escaped after reportedly hurling himself down a steep ravine.

On Friday night, Guzmán was returned to Altiplano, from which he escaped six months ago. Mexican authorities on Sunday announced it formally began extradition procedures against the drug lord, which can still be challenged by his lawyers.
Even if he does get extradited, the process could be tied up in the courts for months.