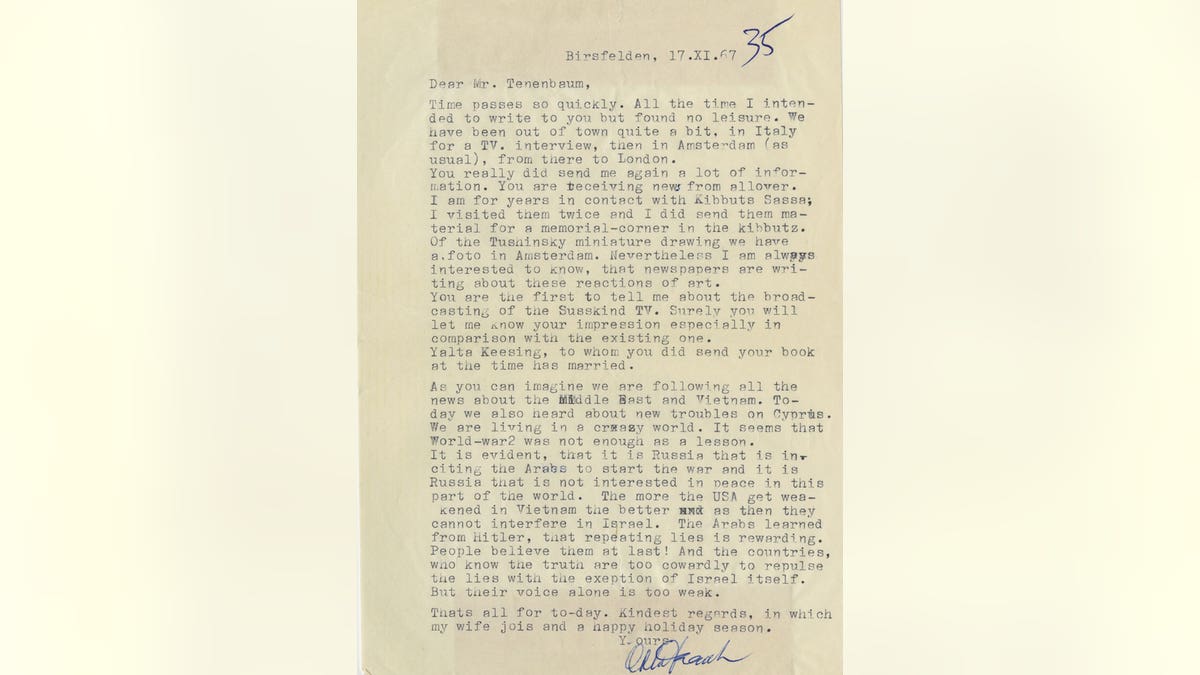 Nearly 80 letters written by Anne Frank's father, shining a light on his tough battle to preserve her legacy after the Holocaust, are currently up for sale.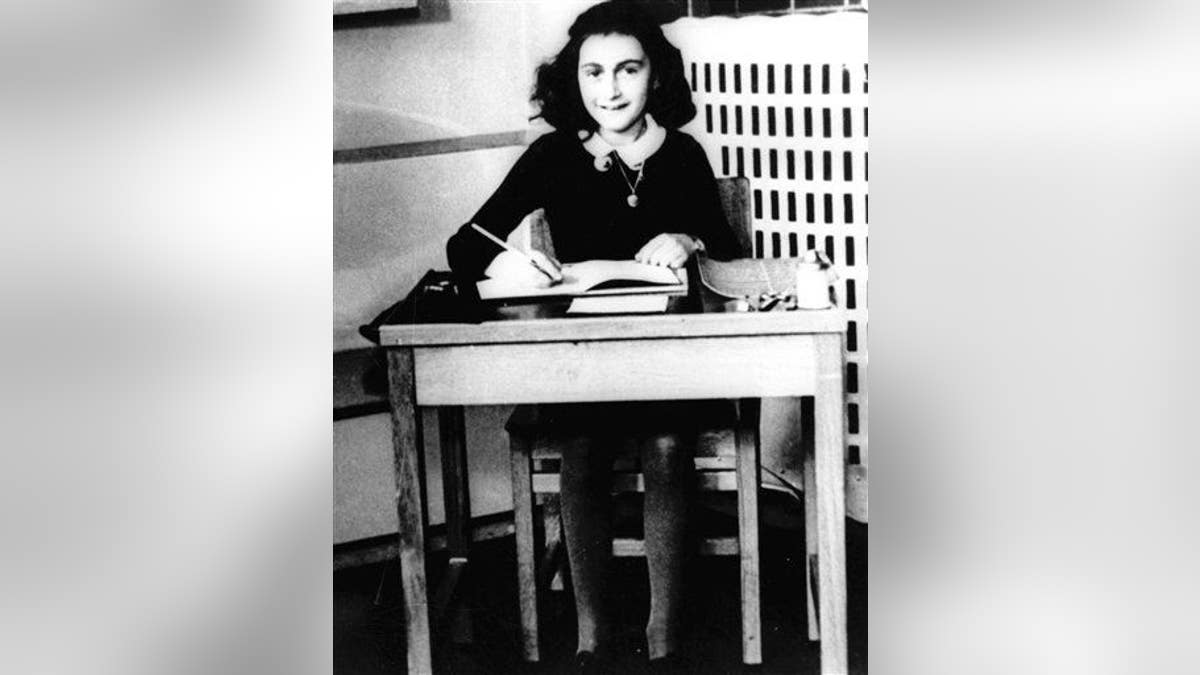 The messages from Otto Frank also described in detail his struggle to promote Israel's standing in the world, and his reaction after President John F. Kennedy was assassinated. The asking price for the collection: $35,000.
HANDWRITTEN LETTER FROM ABRAHAM LINCOLN TO BE SOLD
As a teenager, Anne Frank hid with her family in an Amsterdam apartment to stay away from the Nazis during World War II, all while writing in her diary. She was arrested in 1944 and died in a concentration camp the next year. Her father survived the Holocaust, and died in 1980.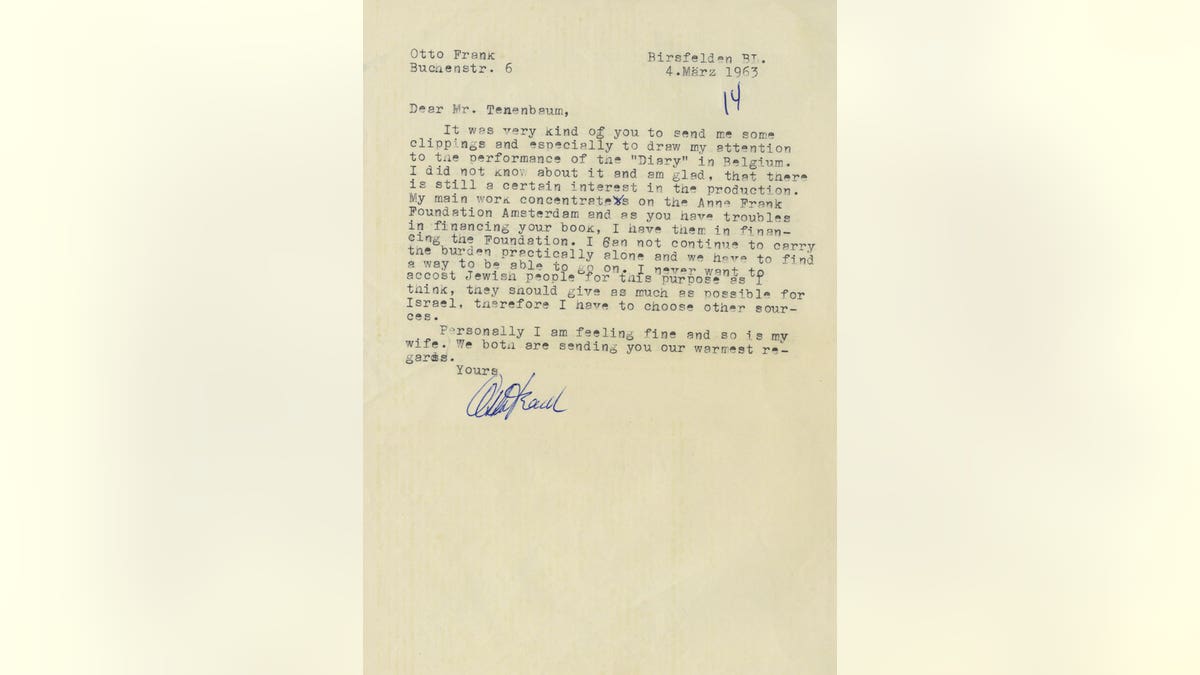 One of Otto Frank's top priorities: keeping the Anne Frank Foundation fully funded so that future generations could continue to learn her story. "I cannot continue to carry the burden principally alone and we have to find a way to be able to go on. I never want to accost Jewish people for this purpose, as I think they should give as much as possible for Israel, therefore I have to choose other sources," he wrote.
NEW VR FILM WILL TAKE VIEWERS INSIDE ANNE FRANK'S HIDING PLACE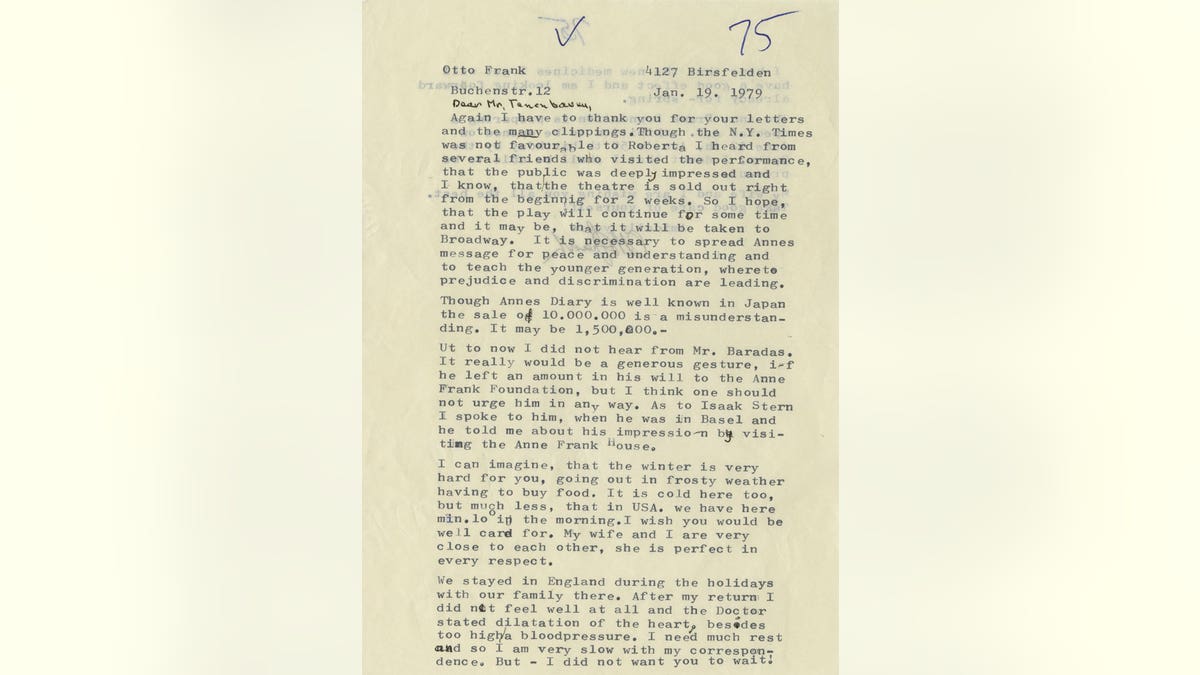 Anti-Semitism and Israel's standing in the world clearly were also very important to him. "The Arabs learned from Hitler that repeating lies is rewarding. People believe them at last! And the countries who know the truth are too cowardly to repulse the lies with the exception of Israel itself."
Otto Frank fought hate and detested war, keeping the message he felt his daughter represented. She was constantly on his mind, evident in all of his letters.
"It is necessary to spread Anne's message for peace and understanding and to teach the younger generation whereto prejudice and discrimination are leading."
He also apparently considered Kennedy a hero. After the president was shot and killed in 1963, Frank responded, "All of us are terrified, it is a detesting crime. We looked up to Kennedy, we admired him, his ideals, his humanity."
The Raab Collection, which announced the sale, has managed political artifacts, dispatches and documents from titans of history including Abraham Lincoln, Winston Churchill and Napoleon.