Down But Not Out: 'El Chapo' Is Now Behind Bars, But Sinaloa Cartel Remains Strong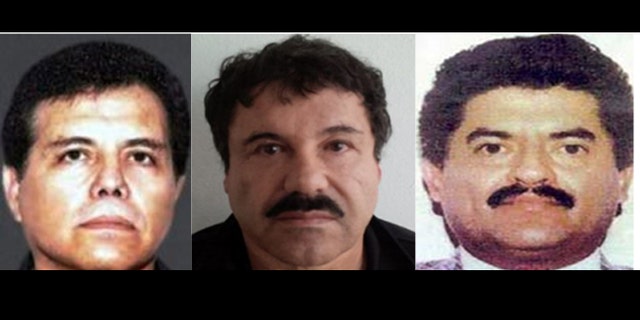 Mexico City – The powerful Sinaloa cartel is expected to go right on making huge profits to the tune of billions of dollars off illegal drugs despite the takedown of its legendary leader, Joaquín "El Chapo" Guzmán, who leaves in place a sophisticated distribution network and a detailed business plan.
Guzmán's capture Saturday was undoubtedly a major blow for a criminal ring likened to a Fortune 500 company — the loss of its chief executive coming on the heels of more than a dozen arrests of key lieutenants and lower-level operators in recent months. Yet the cartel remains the major supplier of cocaine to the U.S., and the arrest did not touch the cartel's immense political power, nurtured through the bribery of officials, or its thriving money laundering operations, experts said.
"As long as these other structures remain in place, all things being equal, Sinaloa will be able to continue to operate if not as normal, at least as the most powerful criminal organization in Mexico," said David Shirk, director of the University of San Diego's Justice in Mexico Project.
The longer-term fate of the cartel is more difficult to predict, however, as authorities pursue other top leaders and weaker rivals dream of moving in.
Mexico's Secretary of the Interior Miguel Angel Osorio Chong said, so far, there's only speculation about how the cartel will replace Guzmán, and whether other criminal groups will try to take over.
"We have to wait for real information, and when we have it, we will act," Osorio Chong said. "That will be part of our work, to see how they reorganize, how they accommodate ... so we can keep them from resurging and replanting."
On Monday, a senior Drug Enforcement Administration official told The Associated Press that intelligence indicates Guzmán's partner, Ismael "El Mayo" Zambada, is likely to be the next chief of the Sinaloa cartel. The official agreed to discuss specific details of the arrest only if not quoted by name.
Zambada, described as a "brash Mexican cowboy," ran the Sinaloa Cartel from 1993 to 2001 while Guzmán was in prison and has recruited two of his sons into the trade. One of them, Vicente, or "El Mayito," is facing a federal grand jury indictment in Chicago and has claimed he was a DEA informant, while another, Serafin Zambada, was arrested in November.
Another cartel capo who could come to lead the group is Juan José Esparragoza. Known as "El Azul" or "Mr. Blue," Esparragoza has strong ties to both Colombian and other Mexican traffickers and has a price of up to $5 million by U.S. agencies for information leading to the arrest.
Zambada and Esparragoza share a clear vision, not only with respect to their adversaries but also with their business plan for trafficking cocaine, marijuana, heroin and methamphetamine in some 54 countries, said Guillermo Valdes, former head of Mexico's top domestic intelligence agency.
A third option in taking the reins may be a long shot, but some experts said that Rafael Caro Quintero could take control of the cartel.
Caro Quintero, known as the grandfather of Mexican drug trafficking, helped form the cartel that later split into other groups in Guzmán's own Sinaloa cartel. While he spent 28 years behind bars, the 61-year old was released from prison in August after a judge threw out the charges against him.
He was serving time for the 1985 murders of U.S. Drug Enforcement Administration agent Enrique Camarena and pilot Alfredo Zavala Avelar.
Caro Quintero's whereabouts is not known, but an arrest warrant was issued for Caro Quintero a few days after his release from prison so he could be extradited to the United States.
In other recent takedowns of major cartels, the Mexican government had to hit more than one leader before an organization was dismantled or scattered into smaller gangs. One by one, the Arellano Felix brothers in Tijuana were arrested or killed over the last decade, as were the Beltrán Leyva brothers from 2008 to 2011.
Though the Mexican marines killed Zeta leader Heriberto Lazcano Lazcano in October 2012, the power of that brutal gang did not diminish until the other leader, Miguel Angel Treviño Morales, was arrested last summer.
Some predict Sinaloa is about to suffer the same fate.
U.S. Rep. Michael McCaul, who is chairman of the House Committee on Homeland Security, said to expect more arrests because authorities penetrated the cartel's communications system in catching Guzmán.
"Our ability to crack their code will not bode well for their future," he said, comparing Guzmán's capture to the 1993 killing of Pablo Escobar of Colombia's Medellín cartel, once a powerful criminal organization. Its demise opened the way for other cartels to grow, including Sinaloa.
In fact, some fear Guzmán's capture could spark more violence, though no Mexican cartel seems strong enough at the moment to make a major play. Sinaloa's main rivals, the Zetas, have been substantially weakened, and other groups have become too local to rival Guzmán's international reach.
A greater risk may be the fragmentation of Guzmán's cartel as internal factions vie for pieces of the pie, though most experts foresee a smooth transition of power.
"It could mean a new distribution of territory in the country," said Javier Valdez, founder of Riodoce newspaper in Culiacan and author of With a Grenade in the Mouth, about drug war victims.
Since Guzmán escaped from a Mexican prison in 2001, he built his cartel into the largest in the world, with tentacles extending from Argentina to Australia. Nobody outside the cartel leadership knows the extent of its power or business, but estimates are that Sinaloa handles 25 percent to 45 percent of all drugs entering the United States, with revenues around $3 billion a year.
Last year, Forbes named Guzmán the world's 67th most powerful person, between U.S. Speaker of the House John Boehner and New York Times Executive Editor Jill Abramson.
Sinaloa is believed to operate with an extended network of officials and lookouts on the payroll, especially in the western Mexico state of Sinaloa, for which the cartel is named. Both a state and federal police chief have been arrested for alleged ties to Sinaloa or its allies, only to later be released. When the Mexican marines mounted their raid on Guzmán's hideout Saturday, it was without alerting any local law enforcement.
"Local and state authorities are in the service of the Sinaloa cartel," Valdez said.
The difference may lie in whether Guzmán is extradited to the United States, where he has been indicted in at least seven U.S. judicial districts, said Edgardo Buscaglia, an expert on the cartel and senior scholar at Columbia University.
In the U.S., he won't be able to escape like he did from a Mexican prison and could provide key information, experts said. Mexican authorities on Monday announced that Guzmán had been formally charged, starting a legal process that could make swift extradition unlikely.
Even though the long-term fate of the Sinaloa cartel is unclear, everyone agrees on the bottom line: Drugs will continue to flow, even with the takedown of other cartels south of the border.
"In drug trafficking, as long as there is demand, there will be a supply," Valdez said. "It's like energy. You can't create or destroy it. It only transforms."
The Associated Press contributed to this report.
Follow us on twitter.com/foxnewslatino
Like us at facebook.com/foxnewslatino