'Don't let me down': Afghan who risked life helping US Marines dodges death in European refugee wave
NEWYou can now listen to Fox News articles!
Sami Kazikhani once risked his life serving alongside U.S. Marines in Afghanistan, but now he, his wife and their young daughter find themselves sleeping in refugee camps and the unfamiliar streets of Europe as they desperately seek a new life in America.
Marked for death in his homeland after being outed as a "collaborator" in a dramatic incident at a family wedding, Kazikhani, who was lauded by Marines he once served, was forced to flee last year even while he was applying for safe passage to the U.S. with his wife Yasmiin and infant daughter Roxanna under a special visa program designed for those who served our troops. With tribal elders ordering his death, Kazikhani fled first to Turkey, then made the dangerous trip across the Aegean Sea just weeks ago after being ordered out of Turkey.
"The trip was horrible," Kazikhani, 30, told FoxNews.com from Germany, where he and his family are living with thousands of refugees. "We nearly drowned. We saw others who drowned. We were saved three times. Every time we had to jump into the boat with my daughter, I was sad. It made me cry."
"The only thing I ask is that they don't let me down," he added. "That they give me the chance to do more for my new home."
Once in Greece, the family wandered north, sleeping on streets, along railroad tracks and in squalid refugee camps, he said.
"Everywhere we went, it was no good for us," Kazikhani said. "Greece, Macedonia, Serbia. They all began to deport Afghans."
Now in Germany, Kazikhani awaits an asylum hearing on Dec. 4 that would allow him to live there, but fears the worst.
"I feared for my life in Afghanistan, but now I'm more afraid of being deported without even knowing what is what," he said.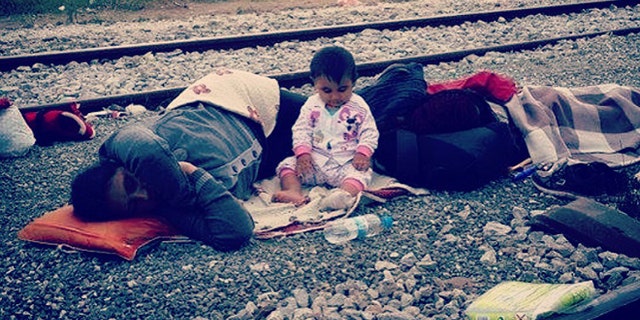 His supporters say he has more than earned a place in America for himself and his family. All coalition allies offer special visas for interpreters in Iraq and Afghanistan who served their troops, but the U.S. process is fraught with paperwork that can turn bureaucratic snarls into life and death for Afghans accused of being traitors and now actively hunted down by the Taliban, ISIS and Al Qaeda.
"I became a translator because I wanted to serve my country and because I was able to speak English," Kazikhani told FoxNews.com in an interview conducted via Facebook Messenger. "I thought I could also be helpful to the coalition forces as well."
"But there were many who absolutely did not like the people who worked with NATO," he said. "Especially interpreters."
One former Marine who served shoulder-to-shoulder with Kazikhani is trying to make sure the U.S. pays its debt to Kazikhani.
"All we are trying to get for him is a verification of employment so we can finish the visa process, but the [U.S.] government is not doing anything," said former Marine counter-intelligence officer Aaron Fleming, who worked with Kazikhani in Afghanistan and praised his commitment to American troops.
Fleming is working with No One Left Behind,, a nonprofit founded by Matt Zeller, a former U.S. Army Intelligence officer who fought to bring to the U.S. a translator who saved his life in Afghanistan. He worries that Kazikhani may not even be safe in refugee camps.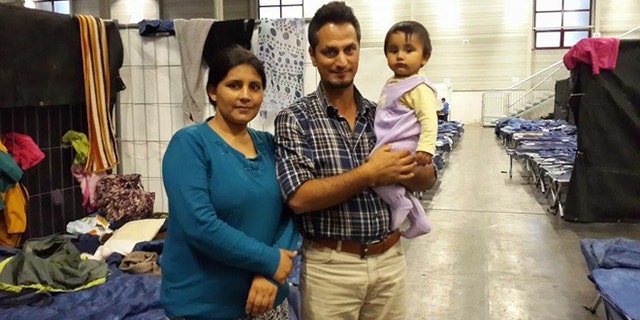 "He is really terrified," Fleming said. "There's plenty of evidence that ISIS has penetrated the migrants. All it takes is for one to realize what he was. It's not going to take much for someone to try and cut his throat."
Kazikhani's troubles began in 2013, during what should have been a happy time. The Taliban had been driven from power by the coalition forces he served and he was in the process of applying for a Special Immigrant Visa that would allow him and his then-fiancé Yasmiin to start a new life in America. He was still working as a translator, but as always, kept his service secret. Kazikhani and Yasmiin traveled to her family's home in north central Afghanistan, where they attended the wedding of her brother, and it was there that an Afghan army soldier outed him to everyone in attendance as a traitor for working with coalition forces.
Yasmiin's parents feared for their daughter and sought the advice of the local elders, many of whom were loyal to the Taliban. Their solution: Call off the wedding, and have Kazikhani killed. The couple learned of the ruling and rushed their marriage at a relative's home with a handful of witnesses before leaving for Turkey, Kazikhani said. With their lives at stake, there was no time for the newlyweds to fill out forms, much less wait the 3-4 years it often takes for a visa to be processed.
"Our Afghan and Iraqi combat translators have been left to die," Zeller said. "The Taliban, Daesh [ISIS], Al Qaeda, and our other enemies do not have an amnesty or reconciliation program. They have one punishment for 'collaboration with the infidels' -- death. A brutal horrible death. They mutilate their victims. They rape their victims and their families in front of each other and then kill them. The worst deaths imaginable.
"That is their fate unless they win the visa lottery or flee to Europe," he added.
Thousands of translators and other native workers served U.S. forces in the wars in Iraq and Afghanistan, each with the promise of decent pay, the chance to help rid their country of terrorists and a chance to win passage to America for them and their immediate families. The U.S. government has never released figures, but since 2008, as many as 30,000 people -- interpreters or workers and their families -- have come from Afghanistan and Iraq under the program. Still, said Zeller, there aren't enough Special Immigrant Visas for all the eligible applicants.
Some 2,000 Iraqi applicants were left in the cold when the program for that country expired last year. Afghanistan's version expires next year, but with 12,000 applications estimated to be pending, thousands are likely to be frozen out. And with terrorists hunting them down, thousands of translators are believed to have fled as part of the wave of refugees pouring into Europe.
Zeller has dedicated himself to bringing translators to the States, and did so after working for five years to help Janis Shinwari make it over. Shinwari was a translator for Zeller's company in April 2008, when they were ambushed by Taliban fighters. According to Zeller, he had been thrown by an explosion and knocked unconscious when Shinwari gunned down two Taliban fighters just as they were about to kill him.
"They had me dead to rights until Janis acted to save my life," Zeller said. "On that April day he taught me the true price of loyalty and brotherhood forged through combat.
"The Taliban retaliated by placing him on the top of its kill list," he added.
How the current controversy about refugees and the screening process might affect interpreters like Kazikhani remains to be seen. But Sen. Jeanne Shaheen, D-N.H., said men and women who earned a place in America by serving the U.S. military should not be forgotten amid concerns about the dangers of taking in refugees.
"We must honor our commitment to the brave civilians who provided critical assistance to the U.S. mission in Afghanistan," Shaheen said in a statement to FoxNews.com. "For many of these Afghans, their faithful service to our country has put their lives in jeopardy. That's why I've included a provision in the latest defense budget bill to substantially increase the number of visas available for the Afghans who qualify under this program and are seeking refuge in the United States."
For now, it seems as if Kazikhani and his family are safe in Germany, but he fears that they could decide to deport all Afghan refugees like the other countries he traveled to. Despite what his family has endured, he is hopeful that he can get his family to America, where he would like to continue his work with the U.S. military. He even has a dream that his daughter will grow up in America and become a scientist for NASA.
"I do trust my Marine brothers," he said. "And I also trust the United States of America's government that they will help me and not let me down.
"The only thing I ask is that they don't let me down," he added. "That they give me the chance to do more for my new home."