Disappearances blamed on the police deepen fear in Burundi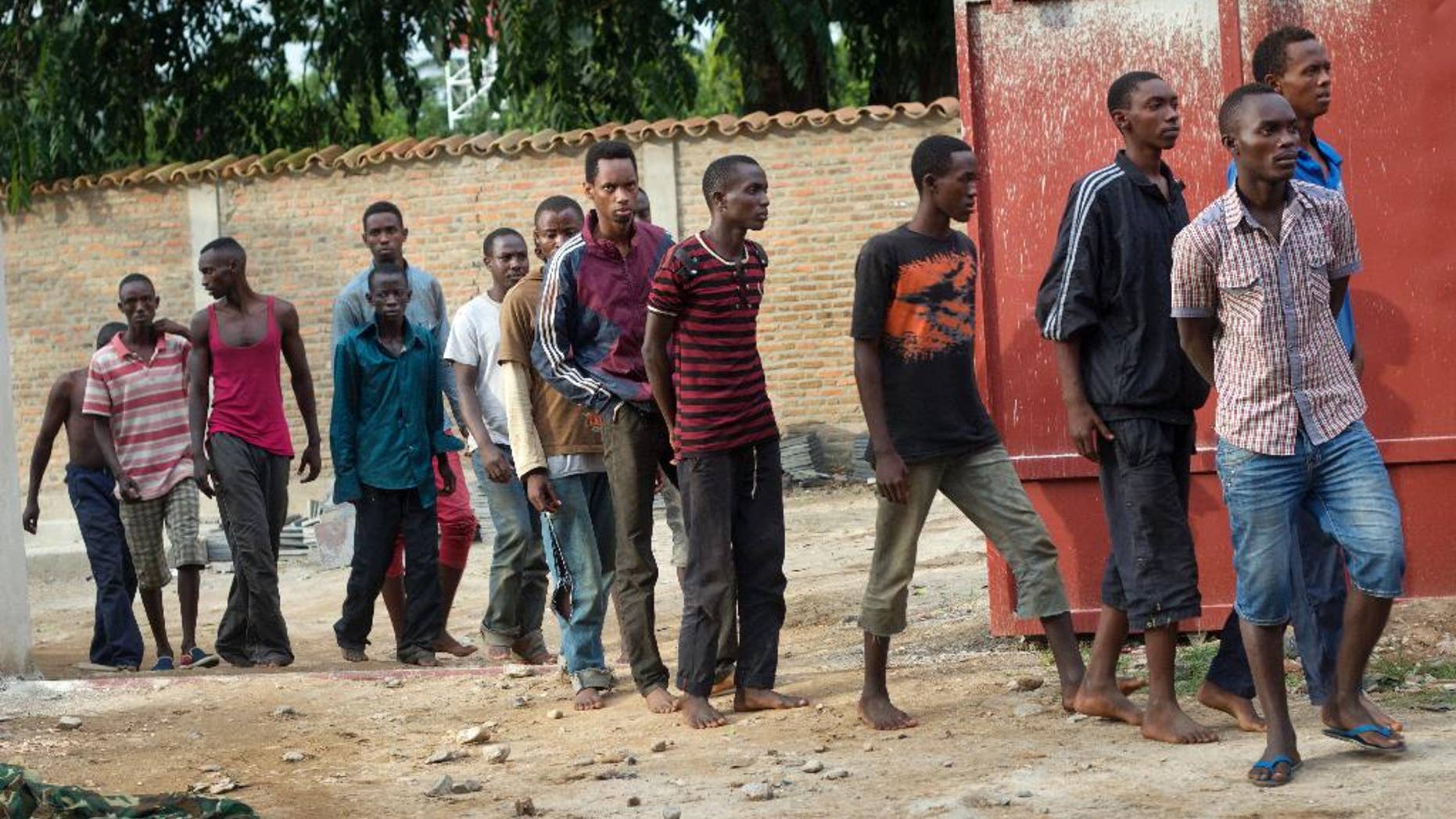 KAMPALA, Uganda – When security officials in Burundi show up looking for someone, they don't even have to produce an arrest warrant. And when they take a suspect away, the terrified family members left behind just hope their relative will be held at a known jail.
That's because unofficial cells have reportedly become death chambers in the months since President Pierre Nkurunziza won a disputed third term.
Amid the violence, in which more than 400 people have been killed since last April, an online network of Burundian activists is trying to bring international attention to what it says are rising incidents of people being disappeared by local police and intelligence agents, some of whom then return to extort huge sums of money from families desperate to get their loved ones back.
The group, iBurundi, has almost 11,000 followers on Twitter. Members are mostly young professionals including journalists, lawyers, economists and policy analysts, and also some students belong, a member told The Associated Press. He insisted on anonymity because of safety concerns.
The group is urging U.N. rights investigators to look into unofficial jails across Burundi where detainees are allegedly tortured and killed, he said.
"We have not been counting all the disappearances but they number in (the) hundreds," he said. "Just in the last two weeks, we know of 26 reported cases. Some of these individuals were later found to be in known jails, others are missing."
Amounts between $250 and $2,500 are demanded from families hoping to secure the freedom of a detained family member, according to the group, which in Twitter updates has been posting names of individuals believed to be missing after they were arrested by security agents.
The Burundian government has repeatedly denied it tortures and kills civilians, although Nkurunziza urged the security forces to use all means necessary to end the violence which started a year ago when civilians took to the streets to protest his decision to serve beyond two terms. In a disarmament operation in some neighborhoods seen as anti-government, such as Musaga and Nyakabiga in the capital Bujumbura, the number of people fleeing Burundi topped 250,000 in March, according to U.N. figures.
Rights groups worry the number of disappearances and extrajudicial killings may be rising as the government tries to put down dissenters as well as at least two rebel groups that have recently launched attacks. "Typically people are taken away by members of the police or intelligence services, led to unknown destinations, then no one hears anything more about them," said Carina Tertsakian, the Burundi researcher for Human Rights Watch.
Some military officials seen as close to the president have been targeted for assassination — including even the army chief, who survived a rocket attack last year — raising the prospect of revenge attacks.
Some detainees may be held in unofficial detention centers run by the intelligence agency, known as SNR, and others may have been killed, their bodies never found, Tertsakian said. Some Burundians whose relatives have disappeared say members of a pro-government militia group called the Imbonerakure are responsible in some cases.
Amnesty International reported in January that there were five possible mass graves on the outskirts of Bujumbura, citing satellite images, video footage and witness accounts after killings in December that were allegedly carried out by Burundian security forces.
Andre Ndimurukundo has been searching for his brother Pascal after he was picked up in Bujumbura by a known intelligence agent last December on charges he had participated in street protests against Nkurunziza.
"We have been visiting all police cells since (Pascal's) arrest but without luck and we don't know whether he is still alive," said Ndimurukundo, who fled into exile. "But a month after his arrest, we received several strange calls from people who said our brother could be released if we paid some money, but we knew even if we paid money his captors would not release him."
The missing man, who was married with four children, is now thought to be dead.
Lambert Nigarura, a prominent lawyer and activist in Burundi, said a group of local lawyers has been trying to gather evidence from families whose relatives disappeared in hopes of taking some Burundian government officials to the International Criminal Court.
"The biggest challenge we face is that these families are threatened not to speak out by the government," Nigarura said. "The world has let the people of Burundi down. We are working under intense threat to expose those who killed and finally face justice."
___
Associated Press reporter Ignatius Ssuuna in Kigali, Rwanda, contributed to this report.