Death toll in Italian bridge collapse climbs to 39
Italian authorities on Wednesday increased the death toll in the Genoa bridge collapse to 39, after more bodies were recovered in the rubble.
Genoa's prefect office announced the updated figure Wednesday as a rescue team continued its searched through tons of slab of broken roadbed, smashed concrete chunks and twisted steel for other survivors.
Italian media reported 3 children among the fatalities. At least two people were missing.
Shortly before noon Tuesday, about a 260-foot stretch of a highway broke off from the 150-foot high Morandi Bridge during a storm. The collapse sent dozens of vehicles plunging into the depths below.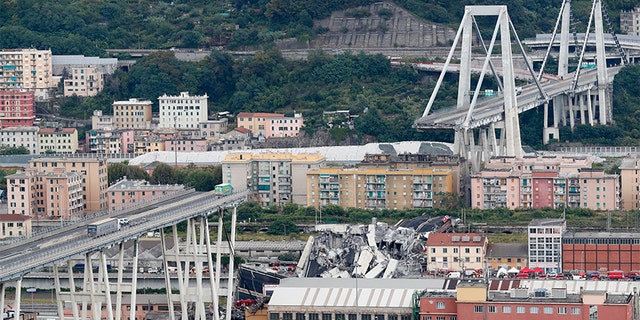 The break sent huge slabs of concrete plummeting into two warehouses, some railroad tracks and a riverbed below the bridge. Officials said no warehouse personnel were inside, since it was closed for summer holidays.
The precise cause of the collapse remains under investigation.
Rescue teams worked through the night and into the morning to recover the victims. At least two people have been pulled from the rubble alive, a firefighter told RAI state TV.
Genoa is a port city located in the Liguria region of Italy. The collapse occurred in an industrial area. Many in the city had said the 1967 bridge was in need of revamping.
The Associated Press contributed to this report.