Death toll climbs to 25 in suspected Russian strike on Syria hospital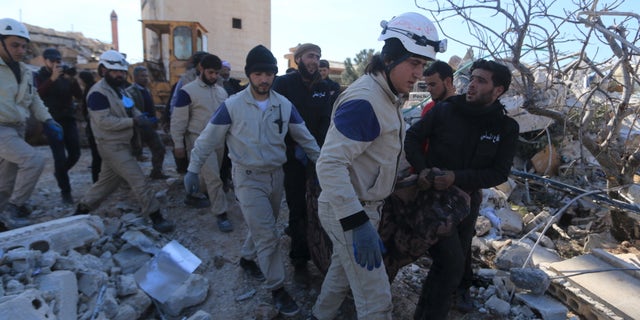 NEWYou can now listen to Fox News articles!
The death toll from a suspected Russian airstrike on a Doctors Without Borders-backed hospital in Syria has risen to at least 25, the organization said Wednesday.
Nine hospital staffers and 16 other people were killed, including a child, Doctors Without Borders Spokesman Tim Shenk said. The dead included patients. At least 11 people, 10 of them staffers, were injured.
The previous death toll was 11.
Doctors Without Borders, also known by its French acronym MSF, has said the airstrike on the hospital in the northern Syrian Idlib province appeared to be deliberate.
Russia has denied the accusation its warplanes struck the hospital.
President Vladimir Putin's spokesman Dmitry Peskov told reporters the hospital report was another case in which those who make accusations against Russia cannot back them up.
MSF said the hospital in the town of Maaret al-Numan in Idlib province was hit four times in attacks that were minutes apart. The attack left the local population of around 40,000 without access to medical services, said MSF mission chief Massimiliano Rebaudengo.
The Observatory and other opposition activists said another hospital in Maaret al-Numan was also hit Monday, most likely by a Syrian government airstrike.
And in the neighboring Aleppo province, a missile struck a children's hospital in the town of Azaz, killing five people, including three children and a pregnant woman, according to the Observatory. A third air raid hit a school in a nearby village, killing seven and wounding others.
Opposition official Abdulrahman Al-Hassan said the women's hospital in Azaz was hit by two surface-to-surface missiles, blaming the attack on Russia because "photos of the missiles have Russian language (and) because we haven't seen this kind (of missile) before the Russian intervention."
The airstrikes came just days after Russia and other world powers agreed to bring about a pause in fighting that would allow for the delivery of humanitarian aid and the revival of Syrian peace talks. The projected truce agreed on Friday in Munich was to begin in a week, but there has been no sign it would happen.
The Associated Press contributed to this report.