Cuba Says US Lying About Jailed American Alan Gross' Health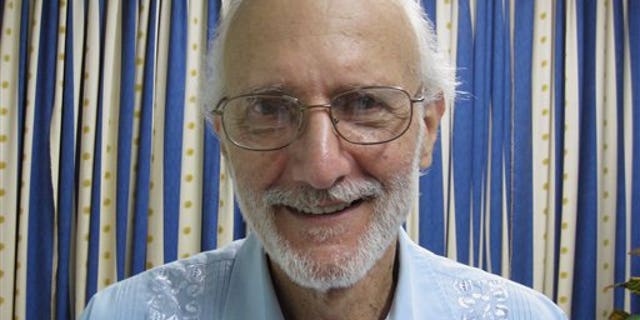 Cuba is accusing the United States of lying about the health and conditions of a jailed American government subcontractor, and pushed back Wednesday against claims by the man's family that his 15-year sentence is a violation of his human rights.
Josefina Vidal, the top Cuba diplomat for North American affairs, stated it was unrealistic to expect Cuba to free Maryland resident Alan Gross "unilaterally"— a clear demand for U.S. concessions in the case of five Cuban intelligence agents sentenced in Florida to long jail terms.
According to Vidal, the U.S. government "is directly responsible for the situation that led to the detention and judgment and trial of Mr. Alan Gross so we have to sit down together, to look together for a solution to this case."
Vidal also said Cuba has repeatedly made its terms known to U.S. officials and has not gotten a response. Diplomats and the White House have flat ruled out a prisoner swap, at least in public comments.
Gross told a U.S. rabbi who visited him last week at a military at a military hospital where he is being held that he does not want to be linked to the intelligence agents' cases since he does not believe he committed espionage. But he added that he does desire better U.S.-Cuba ties and freedom for all "political prisoners."
Gross was setting up wireless Internet connections for Cuba's Jewish community as a subcontractor for USAID, the U.S. government agency in charge of foreign economic development, where he was arrested in December 2009. The project he was working on was part of a $40 million-a-year program to promote democracy.
U.S. officials have portrayed the work as purely humanitarian. But Gross was violating Cuban law by doing work for USAID in the country, since under Cuban law such activities must be authorized. Gross' wife acknowledged in a recent lawsuit against the U.S. government and her husband's employer that he knew the work he was doing was risky, and other documents show he took steps to conceal his activities.
Gross, who was overweight before his arrest, has lost 105 pounds in custody and suffers from a number of ailments. Earlier this year, he developed a mass behind his right shoulder. His lawyers have called on Cuba to allow an independent doctor of his choosing to examine him.
Vidal said a team of Cuban doctors performed a biopsy and found no evidence the growth was cancerous. She hinted Cuba would release more tests if the accusations continue.
"The U.S. government is lying once again to the public, saying that Mr. Gross has cancer and does not receive adequate medical care," she said. "These lies have not stopped, even after the results of the biopsy conducted on the lesion on his back were delivered to his family and U.S. authorities."
On Monday, White House press secretary Jay Carney reiterated Washington's demand that Cuba release Gross, or at least allow him to travel to the United States and visit his elderly mother, who was diagnosed with inoperable cancer.
Vidal repeated Cuba's position that such a trip was not in the offing.
Based on reporting by the Associated Press.
Follow us on twitter.com/foxnewslatino
Like us at facebook.com/foxnewslatino