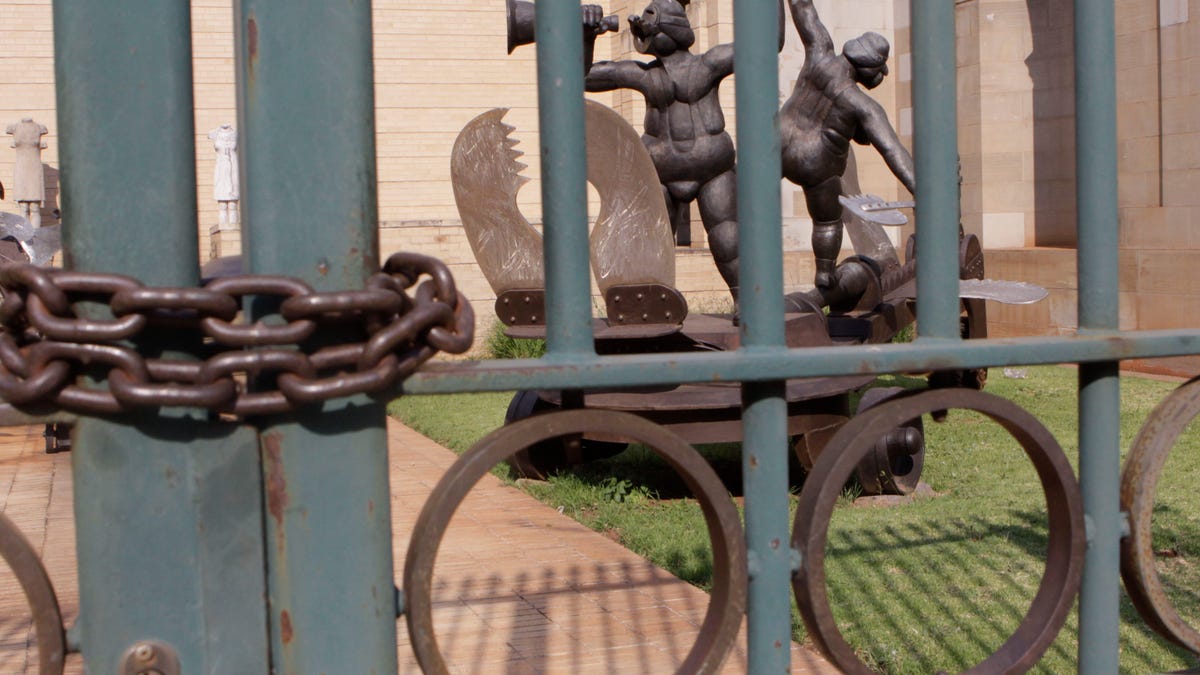 JOHANNESBURG -- One of the bronze sculptures stolen from the Johannesburg Art Gallery is worth about $16,000. Curators fear thieves sold it to a scrap dealer for a mere $250.
Prices for metals with industrial uses like copper -- the main component in bronze -- have been booming. And as the stolen bronzes fail to turn up at auction houses, galleries can only fear the worst.
"I understand that art will be stolen," said Noah Charney, who founded a think tank called the Association for Research into Crimes Against Art. "But I get very upset when art is destroyed ... that is an irrevocable attack on beauty, culture and civilization."
Bronze sculptures are only the latest target in South Africa: Days before U2 played a stadium in Johannesburg earlier this year, officials blamed copper thieves for power problems at the venue.
Cable theft has led to service interruptions on the Gautrain, a sleek new South African light rail service.
At the Johannesburg Art Gallery, home to Picassos, van Goghs and Rodins, thieves stole a figure of a woman in mourning by South African master sculptor Sydney Kumalo. The Kumalo is one of a total of four bronzes taken in a robbery in January and another in September at the city-owned gallery.
A small bronze titled "A chair, a boat and a vase" by well-known South African sculptor Barend De Wet was wrenched from the facade of the national art museum in Cape Town in May.
"There's a lot of very sophisticated (security) systems internationally that, unfortunately, we just can't afford," said Antoinette Murdoch, chief curator of the Johannesburg Art Gallery.
Murdoch said the city has promised her 1 million rand (about $125,000) to upgrade security, and she is seeking more from donors.
Bernard Maguire, spokesman for the Metal Recyclers Association, said his industry group alerts scrap dealers across South Africa when a theft, whether of copper wire or a bronze statue, is reported.
"If they are caught with it, they can't say that they didn't know," he said.
He said the members code of conduct also makes it clear that "if you do suspect something is stolen, you're duty bound to communicate that to police." But he said some items are cut up before they even reach dealers.
South Africa, well known for its high rates of murder and other violent crimes, is only the latest country where copper thieves are targeting art.
In one stunning case in 2005, thieves took a two-ton, $5.2 million bronze by famed English sculpture Henry Moore from the artist's estate north of London. Police, saying "Reclining Figure" was too well known to have been sold on the art market, said the thieves may have stolen the work to melt it down and sell it for a fraction of its value as scrap.
The phenomenon also has been seen in Latin America, where vandals in Brazil sawed off the arms of a bronze statue of soccer legend Pele in 2007.
"It's all about bronze and about the copper in bronze," Tom Cremers, former head of security at Amsterdam's Rijksmuseum, said in a telephone interview. "Very few thefts of sculptures are solved. I think it's less than 5 percent. They damage the sculpture right away. Within a day, the sculpture disappears. That makes it very difficult to solve these cases."
Cremers recommends that steel skeletons be built inside larger bronzes to make it harder for thieves to cut them into pieces and cart them away. Smaller pieces can be fitted with electronic devices, the same strategy boutiques use to keep shoplifters from walking off with clothing. He acknowledges, though, that such fixes might be beyond the budgets of museums in poor countries.
Gordon Massie, managing director of a Johannesburg company that specializes in ensuring fine art, said the true extent of the problem may never be known because private collectors who have lost bronzes don't want to invite attention. And some government galleries refuse to list losses on their site for fear they'll be accused of failing to care for their nation's heritage.
Two years ago, Massie said, a registry of thefts he makes public in an effort to ensure pieces are recovered listed no stolen bronzes. Last year, there was one. This year, there have been five -- four alone from the Johannesburg gallery and the one from the national gallery.
The Johannesburg Art Gallery is not a client, but Massie listed its losses because he wanted to help. The cash-strapped gallery has had to cut back on gardeners and can't afford a badly needed new roof and air conditioning system.
"They're in a woeful position of holding the nation's treasures and having no budget," Massie said.
"One has to have a lot of empathy with the directors and curators. It's not their choice to have poor security."