Colombia's FARC Rebels Want U.S. To Send Delegation To Retrieve Ex-Marine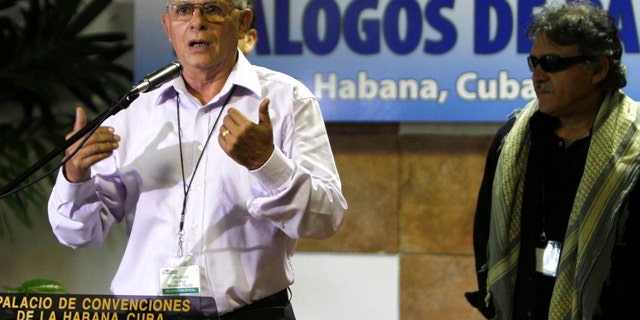 Colombia's largest guerrilla army is emphasizing their willingness to free a former U.S. Marine it has been holding captive for more than a month. But they insisted Tuesday they will only do so if the government sends a high-level delegation to retrieve him.
Speaking to reporters in Havana, where the Revolutionary Armed Forces of Colombia, or FARC, and Colombian government negotiators have been conducting peace talks since last year, a top FARC commander said the fate of captured American citizen Kevin Scott Sutay is in the government's hands.
"We have put the ball in the government's court," said Rodrigo Granda, who has adopted the nom de guerre Ricardo Tellez. "We proposed a commission of top people."
Colombian President Juan Manuel Santos said last week that he would not send public figures such as leftist former Sen. Piedad Cordoba to retrieve Sutay, vowing the FARC would not be allowed to make a media spectacle out of his release.
Instead he asked the guerrillas to discreetly hand Sutay over to the International Red Cross.
Sutay was taken by the guerrillas June 20 in the southern department of Guaviare, in a hotspot for Colombia's decades-old civil conflict.
The U.S. ambassador to Colombia said Sutay was not an active member of the military and was traveling through the South American nation as a private citizen.
"He is a citizen who has nothing to do with Colombia's internal conflict," Ambassador Michael McKinley said last week.
However the FARC has called him a "mercenary," and Granda on Tuesday claimed that Sutay's belongings raised suspicions about his activities in Colombia.
"What would you think of a man who is in a war zone, who has a secret camera in his watch, who is carrying (global) positioning equipment ... who has a military uniform in his suitcase?" Granda said. "And the U.S. Embassy comes out and says it didn't know anything about its citizen."
Still, he said the FARC is willing to free him as a gesture amid the peace negotiations, which have been taking place in the Cuban capital since late last year.
"We do not have any interest in delaying or putting off the handover," Granda said.
Formed in the 1960s, the FARC is the oldest active guerrilla band in the Western Hemisphere. Observers say the FARC currently has about 8,000 armed fighters.
Based on reporting by The Associated Press.
Follow us on twitter.com/foxnewslatino
Like us at facebook.com/foxnewslatino