Colombia and FARC agree to cease-fire following peace accord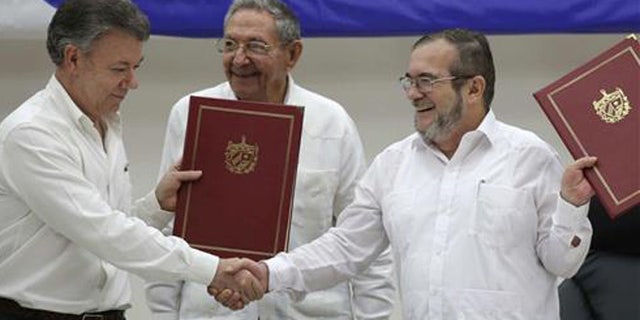 NEWYou can now listen to Fox News articles!
HAVANA (AP) – Colombia's government and the country's biggest rebel movement announced an agreement Friday on procedures for implementing a cease-fire after a final peace accord is reached.
The parties issued a joint statement in Havana, where negotiators have been working since 2012 to produce a peace deal to end a half-century-old civil conflict that has killed more than 220,000 people.
The mechanisms for establishing and monitoring the cease-fire were agreed on by chief government negotiator Humberto de la Calle and Ivan Marquez, commander of the Revolutionary Armed Forces of Colombia.
The agreement lays out how the cease-fire will function in 23 zones and sets steps and a timetable for rebel fighters to gather at eight points to give up their arms. It also establishes transit zones and locations where civilian officials of the FARC will maintain their presence and authority.
The procedures will "ensure that the process will be transparent, secure and with robust monitoring and verification," de la Calle said.
Marquez said the agreement was another sign that negotiations are succeeding.
"The peace process in Colombia will follow ineluctably to its end," said the FARC leader, who also criticized those opposed to the government making a deal with the FARC — an allusion to Colombian President Juan Manuel Santos' predecessor, conservative Alvaro Uribe.
Santos has said in recent months that the sides are close to a final accord. Negotiators have reached agreements on all major issues for the accord, with the biggest unresolved matter being how the accord will be ratified and given legal armor so it won't unravel should a more conservative government succeed Santos, who leaves office in 2018.
Like us on Facebook
Follow us on Twitter & Instagram