Close to 90 elephants slaughtered near Africa wildlife sanctuary, group says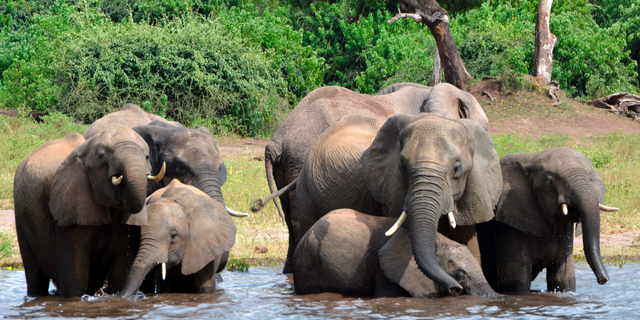 Close to 90 elephants have been found dead near a wildlife sanctuary in Botswana, according to conservationists, as the gentle giants are increasingly being threatened by poachers.
Non-profit group Elephants Without Borders, which is conducting a national elephant census, has found the "fresh and recent" carcasses of 87 poached elephants near the Okavango Delta wildlife sanctuary, director Mike Chase told the BBC. He said he was "shocked" at the findings in Botswana, which has long been viewed as a refuge for elephants.
OPINION: ELEPHANT TROPHIES? SERIOUSLY? THIS IS WHAT WASHINGTON IS SPENDING ITS TIME ON?
"I'm shocked, I'm completely astounded," Chase said. "The scale of elephant poaching is by far the largest I've seen or read anywhere in Africa to date."
Chase added that, compared to his 2015 census, "we are recording double the number of fresh poached elephants than anywhere else in Africa."
The government of Botswana, home to an estimated 130,000 elephants, told The Associated Press that the non-profit's information was inaccurate, and that some of the elephant carcasses found "were not poached but rather died from natural causes and retaliatory killings as a result of human and wildlife conflicts."
The country, with a population of more than 2 million, suffers from some human-wildlife conflict but has more space than many other countries for animals to roam. Kenya, for example, has a population 25 times larger and is almost as big as Botswana in geographical size.
Security in Botswana has often been known to quickly open fire on poaching suspects, including Namibians and Zimbabweans who were killed after illegally crossing the border.
Chase told the news station that the group was warning "of an impending problem and we thought we were prepared for it."
ELEPHANTS RARELY GET CANCER BECAUSE THEIR BODIES HAVE A RARE 'ZOMBIE GENE'
After poachers wiped out large numbers of elephants in neighboring Zambia and Angola, they're "now turning their guns to Botswana," Chase said. "We have the world's largest elephant population and it's open season for poachers," he told The AP, adding that poachers have targeted old bull elephants that presumably have the heaviest tusks.
Botswana President Mokgweetsi Masisi, who took office in April, has reportedly taken steps to reduce the use of military weapons against poachers, which some conservationists speculate could be emboldening ivory traffickers.
The Associated Press contributed to this report.