'Close encounter' reported between US Navy plane, Chinese jet over South China Sea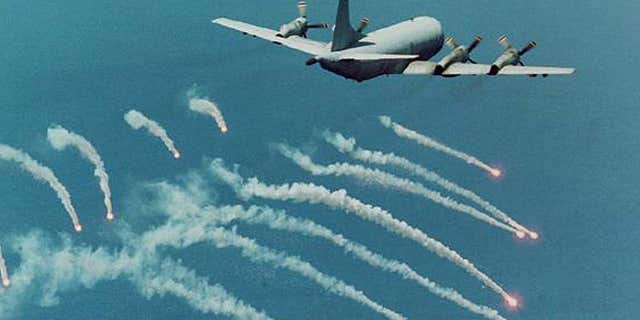 One day before President Trump spoke to Chinese President Xi Jinping, a Chinese military surveillance aircraft "crossed the nose" of a U.S. Navy reconnaissance plane in the South China Sea near the contested Scarborough Shoal, a Pentagon spokesman confirmed on Friday.
TRUMP TELLS CHINESE PRESIDENT UNITED STATES WILL HONOR 'ONE CHINA' POLICY
The "interaction" between the U.S. Navy P-3 Orion and a Chinese KJ-200 took place on Wednesday in international airspace, U.S. Pacific Command spokesman Robert Shuford said in a statement.
The Chinese "early warning" airborne surveillance aircraft crossed 1,000 feet in front of the U.S. plane forcing it to alter course, Capt. Jeff Davis said at the Pentagon.
CHINESE AMBASSADOR SAYS MORE FUNDS TO FLOW TO PHILIPPINES
While he called the incident a "close encounter," Davis said there was no evidence to suggest the Chinese did anything on purpose. Davis said there was "normal radio contact" afterwards, adding, "We don't see evidence this was intentional."
Fox News asked Davis to asses China's "early warning" capability if one of its radar planes did not see a U.S. Navy reconnaissance aircraft. Davis said he would let the Chinese speak to their own capabilities.
The Scarborough Shoal is located between the Philippines and the Chinese mainland. The close call came two days before the arrival of Japanese Prime Minister Shinzo Abe to Washington,
Shuford said the U.S. plane was on a routine mission and operating according to international law, Reuters reported.
He said the Department of Defense and the Pacific Command "are always concerned about unsafe interactions with Chinese military forces."
"We will address the issue in appropriate diplomatic and military channels," Pacific Command added.
The KJ-200 is based off the Soviet An-12.
Relations between China and the U.S. have gotten off to a rocky start in President Trump's presidency as Rex Tillerson starts leading the State Dept.
At his confirmation hearing, Tillerson likened China's island building in the South China Sea to the annexation of Crimea by Russia – a sharp change in tone from the Obama administration's focus on cooperation.
Tillerson accused Beijing of "declaring control of territories that are not rightfully China's." He added that China's actions were "extremely worrisome" and the U.S. failure to respond "has allowed them to keep pushing the envelope" in seas that carry $5 trillion of trade annually.
Beijing has reclaimed more than 3,000 acres of land and constructed military-grade infrastructure. Over the last year, it has been fortifying its islands with surface-to-air missiles and fighter jet deployment.
Asked if he supported a more aggressive U.S. posture, Tillerson replied, "You're going to have to send China a clear signal that first the island building stops, and second your access to those islands is also not going to be allowed."
Fox News' Lucas Tomlinson and The Associated Press contributed to this report.