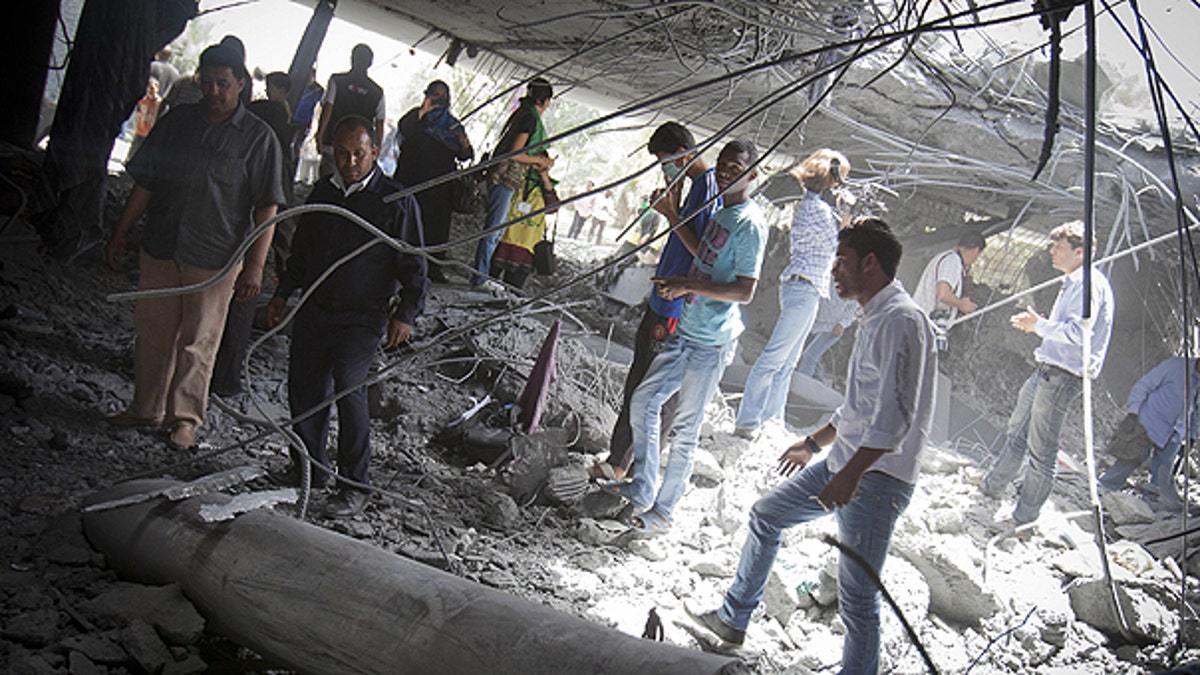 TRIPOLI, Libya – TRIPOLI, Libya -- The CIA director said he believes Muammar Qaddafi survived a NATO airstrike that reduced much of the Libyan leader's family compound to rubble.
Qaddafi has not been seen in public since Saturday's attack, which Libyan officials said killed one of his sons and three grandchildren. Qaddafi was in the building, but survived, Libyan officials have said, providing no details.
Asked about Qaddafi's fate since the air strike, CIA director Leon Panetta told the U.S. TV network NBC on Tuesday that "the best intelligence we have is that he's still alive."
Libya's deputy foreign minister, Khaled Kaim, said Qaddafi met with tribal leaders on Tuesday. Qaddafi, Libya's ruler for 42 years, has appeared in public only infrequently since an armed uprising against him erupted in February.
Kaim, meanwhile, refused to praise or condemn the U.S. action that killed terror mastermind Osama bin Laden earlier this week in a hideout in Pakistan. The Libyan official would only say that his country has long fought against bin Laden's Al Qaeda terror network.
In a news conference late Tuesday, Kaim also confirmed that the Qaddafi regime is trying to block access by sea to the besieged port city of Misrata -- the rebels' bridgehead in western Libya, which remains largely under Qaddafi's control.
"There was an announcement from the Libyan government, the ministry of transportation, that Misrata port is closed and that any foreign ship or vessel would be targeted by the Libyan armed forces," Kaim said when asked about attempts by the regime on Friday to lay anti-ship mines along the access route to Misrata's port.
Two of the mines were destroyed, but a third floated away, and NATO vessels have been searching for it.
The attempted mining has disrupted the delivery of desperately needed supplies to Misrata, a city of 300,000 that has been under siege by Qaddafi's forces for more than two months.
On Wednesday, the International Organization for Migration said one of its aid ships has received permission to dock at Misrata after days of waiting. IOM spokesman Jumbe Omari Jumbe said the Red Star One was being guided into the port by a tugboat to avoid hitting possible sea mines.
Jumbe said the ship is meant to deliver basic supplies and evacuate some 1,000 migrants and wounded civilians from the city. Two seriously ill civilians died earlier this week while IOM was waiting for permission from NATO and Libyan authorities to dock the ship in Misrata.