China removes missile launchers from disputed island after row with US, images show
NEWYou can now listen to Fox News articles!
China apparently removed surface-to-air missile systems from the contested islands in the South China Sea, new satellite images show.
The initial move to place the weapons on the island, first reported by Fox news, angered U.S. officials who immediately disinvited China from the Rim of the Pacific Exercises.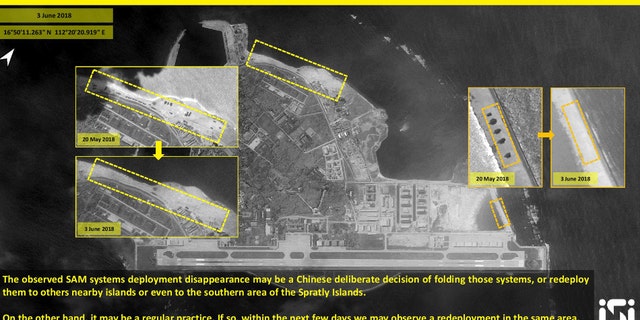 Satellite images taken on May 20 showed two new launchers on the northern shore of the disputed island, next to a radar system, all covered by a camouflage net.
US DISINVITES CHINA FROM MILITARY EXERCISES AFTER COUNTRY CONTINUES 'MILITARIZATION' OF DISPUTED ISLAND
But recent images taken on Sunday by ImageSat International show that the HQ-9 systems and the camouflage nets have been removed.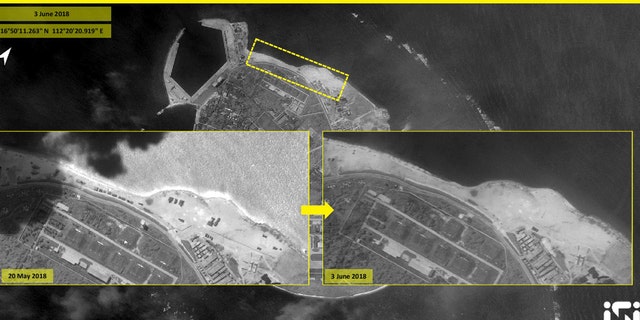 It is unclear if this is a drill, or a reaction to the U.S. efforts to stop the Chinese militarization of the Island.
U.S. Defense Secretary James Mattis said the Trump administration's recent decision to disinvite China from a multinational naval exercise this summer was an "initial response" to Beijing's island activity. Mattis called the U.S. action a "relatively small consequence." He said China could face more severe punishment in the future.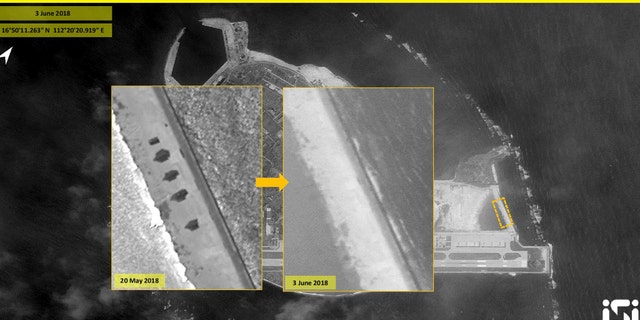 "Despite China's claims to the contrary, the placement of these weapons systems is tied directly to military use for the purposes of intimidation and coercion," Mattis said during a speech at the annual Shangri-La Dialogue.
CHINESE LAND BOMBER IN SOUTH CHINA SEA, POTENTIALLY ESCALATING TENSIONS OVER DISPUTED ZONE
The Pentagon said the provocative move by China raised tensions in the region years after China's president pledged not to militarize the disputed islands.
"We have strong evidence that China has deployed anti-ship missiles, surface-to-air missile (SAM) systems, and electronic jammers to contested features in the Spratly Islands region of the South China Sea," Marine Lt. Col. Christopher Logan, a Pentagon spokesman.
"China's landing of bomber aircraft at Woody Island has also raised tensions."
A Washington think tank, CSIS, said the bomber had landed on Woody Island, the largest of the Paracel Islands in South China Sea that is also claimed by Taiwan and by Vietnam.