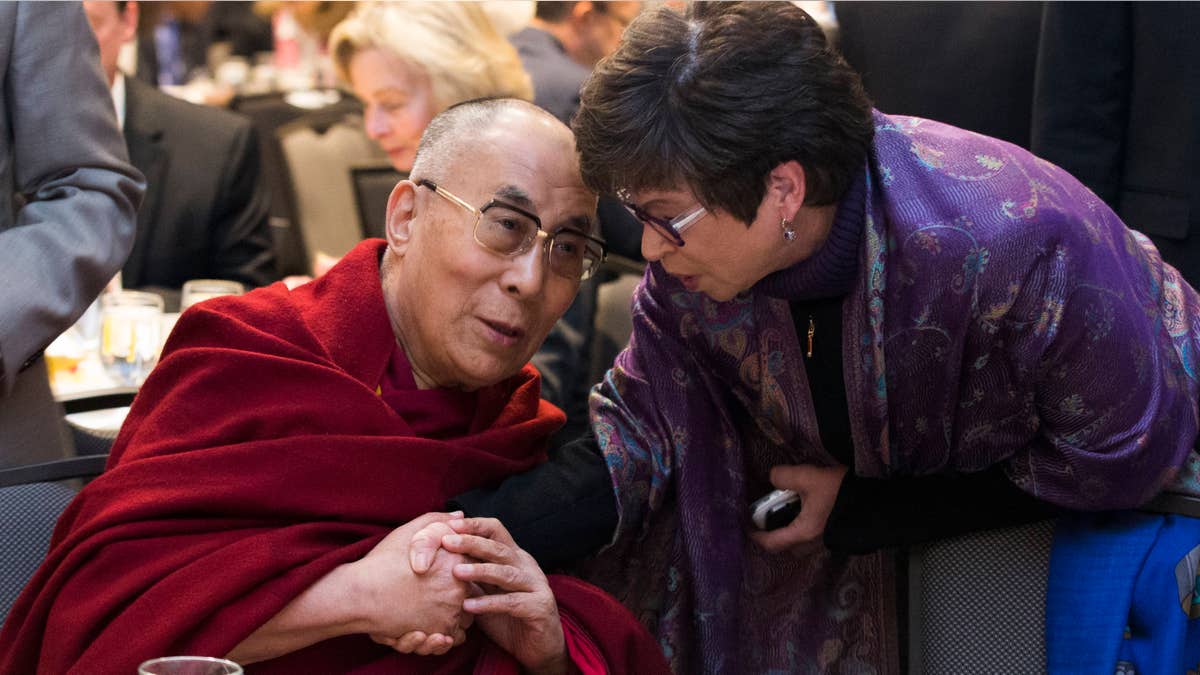 China on Friday protested the Dalai Lama's presence at a public event attended by President Barack Obama, saying the U.S. was exploiting the issue of Tibet for political purposes.
Foreign Ministry spokesman Hong Lei said Friday that China regards the Tibetan spiritual leader as a political exile working to overthrow Chinese rule over the Himalayan region under the cloak of religion.
"We oppose any other country's decision to allow Dalai to visit, and we oppose any country's interference in China's internal politics by exploiting the Tibet issue," Hong said at a regularly scheduled news conference.
"We have repeatedly pointed out that the Tibet issue concerns China's core interest and national feelings. We oppose any other country's decision to provide platforms for Dalai's visit, and we oppose any foreign leaders' meeting with Dalai," Hong said.
Chinese officials routinely refer to the Dalai Lama merely as "Dalai" as a way of undercutting his religious legitimacy.
The Nobel Peace Prize recipient was a guest Thursday at the National Prayer Breakfast in Washington, D.C., the first time the president and the Tibetan Buddhist leader attended the same public event.
Obama welcomed the Dalai Lama as a "good friend" and from the head table, pressed his hands together in a prayer-like position and bowed his head toward him before giving him a wave and a broad smile.
China rejects the Dalai Lama's quest for greater Tibetan autonomy from Beijing as a covert bid for independence, and pressure from Beijing severely limits where he can visit and which leaders he can meet. Obama's three previous meetings with the Dalai Lama have been private because of the sensitivity of the situation.
But in a show of White House support for the Dalai Lama, he sat at a table with Obama adviser Valerie Jarrett. Actor Richard Gere, a friend and follower of the Dalai Lama, was nearby. Outside, hundreds of demonstrators banged drums and waved Tibetan flags under heavy police presence.
The Dalai Lama fled to exile in India after a failed 1959 Tibetan uprising against Chinese rule. Obama called him "a powerful example of what it means to practice compassion and who inspires us to speak up for the freedom and dignity of all human beings."
Although Hong did not threaten any direct retribution, China's official Xinhua News Agency warned in a Thursday editorial that "any possible meeting or encounter between the two is sure to have negative consequences."
"Chumming with a secessionist is playing with fire, which severely harms the mutual trust between China and the United States, and downgrades Obama's credit as a national leader for breaking his commitments to China on the Tibet issue," Xinhua writer Tian Dongdong wrote.
However, the editorial's claim that a meeting would "reverse the positive trends" in China-U.S. relations was likely a vast overstatement given the Foreign Ministry's relatively mild public response and the significance China gives to its ties with Washington.