Chile loses contact with military plane headed to Antarctica, 38 on board
Chile's president says his country is making "every humanly possible effort" Tuesday to find a military plane carrying 38 that vanished shortly after taking off for Antarctica.
Officials lost contact with the C-130 Hercules aircraft at 6:13 p.m. Monday, less than 90 minutes after the plane departed from the city of Punta Arenas for a Chilean base on the world's southernmost continent.
The plane likely would have run out of fuel around 12:40 a.m. Tuesday, the air force said, adding that a search is now ongoing in the "sector where communication with the aircraft was lost, in order to rescue potential survivors."
"With the help of many, we are making every humanly possible effort in the search tasks of the plane," Sebastian Pinera, Chile's president, said Tuesday after speaking with Brazilian leader Jair Bolsonaro.
MH370 HAD 'MYSTERIOUS' 200-POUND LOAD ADDED TO FLIGHT LIST AFTER TAKEOFF: REPORT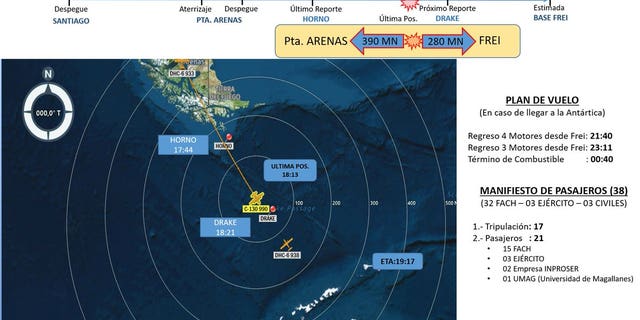 NO SIGN OF LIFE ON ISLAND OFF NEW ZEALAND AFTER VOLCANO ERUPTION
He added that his "thoughts and prayers are with the families of the 38 crew members and passengers" onboard the missing plane.
The aircraft was carrying 17 crew members and 21 passengers, and was heading to Antarctica to check on a floating fuel supply line and other equipment at the Chilean base.
Drake's Passage, where the plane disappeared, is infamous for severe weather conditions, including freezing temperatures and ferocious storms. But Chile's air force said late Monday that the weather was good when the plane began its flight, or the mission would not have been carried out.
Gen. Eduardo Mosqueira of the Fourth Air Brigade told local media that a search was underway and a ship was in the general area where the plane should have been when contact was lost.
CLICK HERE TO GET THE FOX NEWS APP
Mosqueira said the aircraft would have been about halfway to the Antarctic base when it lost contact. No emergency signals had been activated, he said.
He said the plane, whose pilot had extensive experience, had been scheduled to return Monday night.
Fox News' Edmund DeMarche and the Associated Press contributed to this report