Charlie Gard case: Parents withdraw application to bring sick baby to US
With tears streaming down their faces, the parents of terminally ill baby Charlie Gard on Monday withdrew their application seeking to take the child to the United States for an experimental medical treatment, with the couple's lawyer announcing "the window of opportunity has been lost."
Attorney Grant Armstrong said at London's High Court it was too late for the 11-month-old child to receive treatment. Recent medical tests revealed Charlie has irreversible muscular damage.
"It's too late for Charlie," Armstrong said. "The damage has been done."
Charlie's parents, Chris Gard and Connie Yates, cried in the courtroom as the lawyer announced the news -- their last bid to seek permission to take their child to the U.S. for treatment.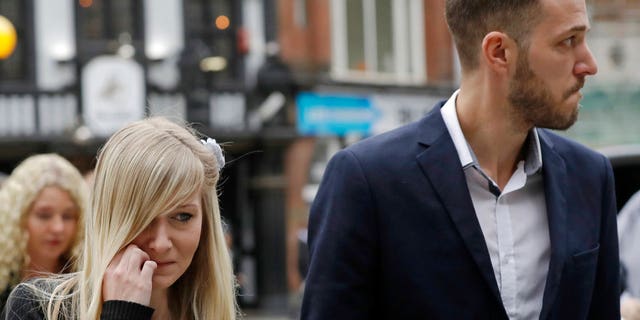 "As Charlie's devoted and loving parents we have decided that it's no longer in Charlie's best interests to pursue treatment and we will let our son go and be with the angels," Yates said in court.
The couple was expected to present new evidence in court on Monday, but they arrived in court to say the dragged out case has wasted "time. A whole lot of wasted time."
"Had Charlie been given the treatment sooner he would have had the potential to be a normal, healthy little boy," Yates said, referencing the recent medical test that ultimately led to the couple's decision to withdraw.
"I only wanted to give him a chance at life," Yates said. "We will always know in our hearts that we did the very best for Charlie and I hope that he is proud of us for fighting in his corner."
CHARLIE GARD HOSPITAL SAYS STAFF HAVE RECEIVED DEATH THREATS OVER INFANT'S CASE
Armstrong said the appeal withdrawal is "worthy of a Greek tragedy" and the couple now wishes "to spend the maximum amount of time they have left with Charlie." Private discussions will be held regarding when Charlie's life support will be switched off.
Charlie, who was born on Aug. 4, 2016, suffers from a rare genetic condition, Mitochondrial DNA depletion syndrome. He has brain damage and is unable to breathe on his own. Doctors at Great Ormond Street Hospital, where Charlie has been treated since last October, have been locked in a prolong court battle, claiming more treatment would only cause pain to the child. They have argued to switch off Charlie's life support to allow him to die peacefully.
But Charlie's parents dispute the claim and have argued that their child should receive every possible treatment until his death.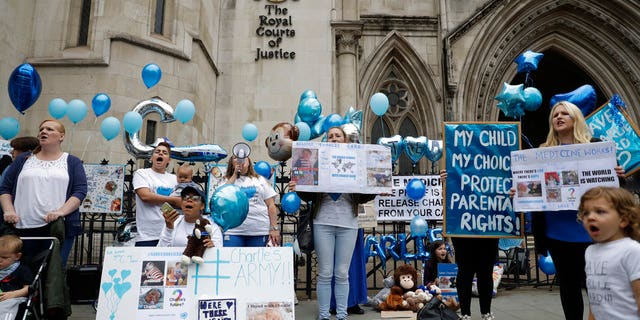 "There has never been any proof that he was and we still don't think that he's in pain or suffering to this day," Yates said in court on Monday.
"Having said that, we have decided to let our son go and that's for one reason and one reason only. It is because the prospect of improvement is unfortunately now too low for Charlie," she added.
The hospital spokesperson also said earlier though their view on Charlie's treatment has not changed, it was the parents' right to hear evidence on the proposed experimental treatment. On Monday, the hospital released a statement saying it will be formulating "the best possible plan for [Charlie's] end of life care."
"It is greatly hoped that in the days ahead, it will be possible to extend to his parents the same quality of care with which Charlie has been provided and to concentrate on the family as a whole," the statement read.
The hospital also said it will "give careful thought" and learn from "this bruisng court case," but also hope others will "reflect" on what happened.
CHARLIE GARD'S DISEASE AND LEGAL CASE: AN EXPLAINER
The case grabbed international attention and received support from leaders such as Pope Francis and politicians.
President Trump also tweeted his willingness earlier in the month to lend a hand – and in doing so exposed the debate over who should make life-and-death decisions for Charlie to a massive audience.
"If we can help little #CharlieGard, as per our friends in the U.K. and the Pope, we would be delighted to do so," Trump wrote.