Carter: Iraq politics won't stall beefed up military fight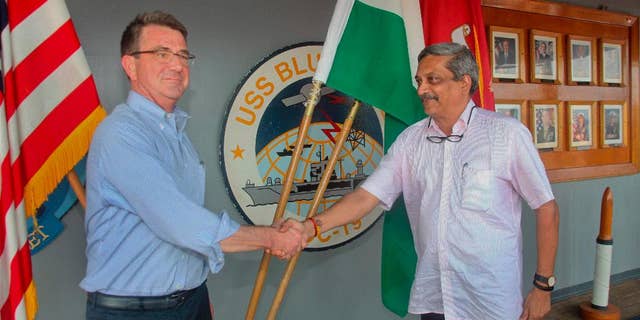 MORMUGAO PORT TRUST, India – Defense Secretary Ash Carter said Monday that struggles within the Iraq government won't stall the U.S. military campaign to beef up the fight against Islamic State militants in the country.
He said he expects the U.S. to ask other Persian Gulf nations next week to help in a broader effort to rebuild Iraq once the Islamic State group is defeated. President Barack Obama and other top U.S. officials are expected to attend the U.S.-Gulf Cooperation Council Leaders' Summit next week in Saudi Arabia.
The Pentagon is preparing recommendations on ways to increase support for Iraq's ground fight, including a likely increase in American forces. No decisions have been made, but Carter on Monday said, "We're going to accelerate the military campaign as fast as we can."