Caravan 'breakaway group' of several hundred migrants arrives at US border, officials say
The vanguard of the huge Central American migrant caravan pushing its way to the border arrived in Tijuana on Wednesday -- at least a week ahead of schedule -- as troops continue to mass on the U.S. side of the border amid President Trump's vow to repel the group.
A "breakway group" of several hundred migrants from the main caravan has already arrived at the border city of Tijuana, aided in part by buses, officials from the Department of Homeland Security told Fox News.
"As we have said repeatedly, being a member of a caravan doesn't give you any special rights to enter the country," DHS spokeswoman Katie Waldman told Fox News. "If they arrive at a Port of Entry, they will have to wait in line in keeping with the lawful processes at our ports of entry. If they attempt to enter illegally, they will have violated U.S. criminal law and in accordance with the President's proclamation and the Interim Final Rule they would be ineligible for asylum."
Waiting on the American side of the border are thousands of U.S. troops and border enforcement authorities -- and, on Wednesday, Secretary of Defense James Mattis.
The migrant group arrived in the border town after nine buses trucked 357 travelers through the penultimate leg of their intended journey, Tijuana's head of migrant services said.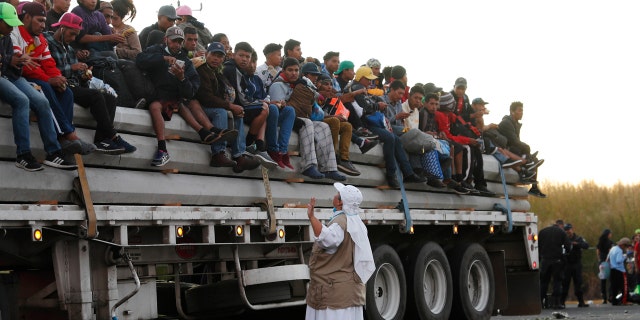 After arriving at the border town, the group immediately went to a stretch of border fence to celebrate, Cesar Palencia Chavez told the Associated Press.
Chavez added authorities had offered to take the migrants to shelters immediately, but the group initially refused, saying they wanted to stay together. After visiting the border fence, most of the migrants were taken to shelters in groups of 30 or 40.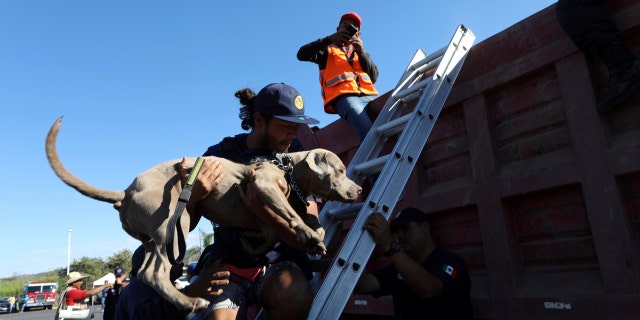 Customs and Border Protection announced Tuesday it was closing four lanes at the busy San Ysidro and Otay Mesa ports of entry in San Diego, Calif. The agency said the closures were needed "to install and pre-position port hardening infrastructure equipment in preparation for the migrant caravan and the potential safety and security risk that it could cause," FOX5 San Diego reported.
That still leaves a substantial path for the tens of thousands of people who cross daily: Twenty-three lanes remain open at San Ysidro and 12 at Otay Mesa.
San Ysidro is the border's busiest crossing, with about 110,000 people entering the U.S. every day. That traffic includes some 40,000 vehicles, 34,000 pedestrians and 150 to 200 buses.
MIGRANT CARAVAN OPTS FOR SAFER, LONGER ROUTE TO US BORDER
The group that arrived in Tijuana is ahead of the lead caravan, whose numbers have swelled to 11,500, including several subsequent caravans lagging behind. The lead caravan is resting in the Benito Juarez Auditorium in Guadalajara on Wednesday, Mexico's second largest city, home to 1.5 million people and located about 1,400 miles from Tijuana.
Members of the caravan voted in Mexico City last week to take the longer, and much safer, route west, instead of the roads to Texas, a much shorter journey that takes them closer to Houston and Florida and other destinations in the Eastern United States.
Immigrants fear cartels and kidnappings in the northern Mexican states, but also wish to enter the U.S. legally through the asylum process.
"Our plan is to keep with the caravan, go to the U.S. and have a better life," Jorge Gomez, a 14-year-old from Guatemala who is traveling with his father and dreams of going to college and becoming an engineer, told Fox News. "I want the chance to have a good family and be welcomed."
LGBT MEMBERS OF MIGRANT CARAVAN REACH US BORDER, SAY THEY ENDURED VERBAL ABUSE BY OTHER MIGRANTS
President Trump has said the caravan includes criminals, something the migrants themselves say is true. The U.S. Dept. of Homeland Security said November 1 that 270 people in the caravan have criminal histories.
Earlier this month, Department of Homeland Security Secretary Kirstjen Nielsen told Fox News there is intelligence indicating the caravan of migrants making their way through Mexico includes a limited number of people from outside the region, including the Middle East.
"We absolutely see people from the Middle East, from southeast Asia, from other parts of the world -- not just from Central America," she told Fox News' Catherine Herridge in an exclusive interview.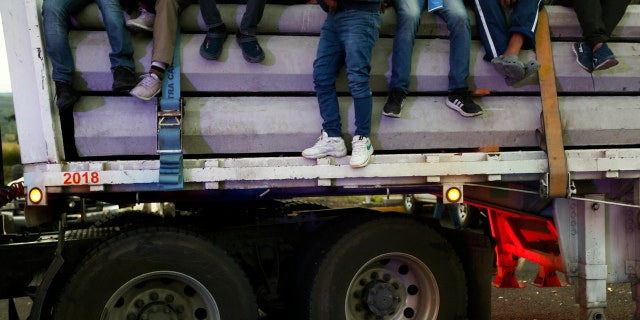 Trump has also ordered the deployment of over 5,000 military troops to the border to help fend off the migrants.
Many in the caravan, however, said they are used to tough conditions and were not deterred.
"We are well aware of everything Trump has been saying," a woman named Maribel, who did not want her last name used for fear of reprisals in Honduras, told the Associated Press. "Let them close whatever they want to close, but we are going to get through anyway."
Fox News' Catherine Herridge, Jake Gibson, Robert Shaffer, and The Associated Press contributed to this report.