LGBT members of migrant caravan reach US border, say they endured verbal abuse by other migrants
A group of LGBT migrants arrived in Tijuana this weekend after reportedly breaking off from the larger U.S.-bound caravan due to verbal harassment and poor living conditions.
About 76 LGBT members of the caravan, which has about 3,600 members, described inter-caravan persecution and poor planning interfering with the members' ability to eat and bathe on a regular basis, according to Telemundo 20 in San Diego.
"Even taking a bath was a major problem," a caravan member who is Honduran told Telemundo. "When we wanted to shower there was no water for us…for food it was the same thing."
An anonymous group paid for the small group of LGBT migrants to take a bus to the border. They said just like in their native country, they endured verbal abuse while they traveled with the large migrant group, which is expected to reach the U.S. border in about 2-3 weeks.
MIGRANT CARAVAN LEAVES MEXICO CITY, WITH EYES ON US BORDER
The LGBT group plans on requesting political asylum at either the San Ysidro or Otay Mesa ports of entry, according to Telemundo.
"We are waiting for our representative," the unidentified migrant said. "We want to do things right."
Tuesday marks one month since about 160 people gathered in San Pedro Sula in Honduras to plan a trip to the U.S. border. That group eventually swelled into the thousands, drew international attention and became a lightning rod in U.S.-Mexico relations.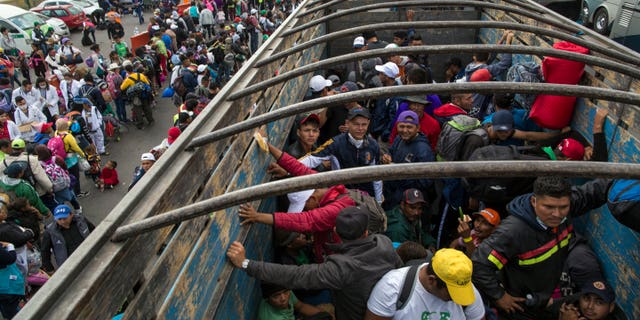 Sunday night, the rest of the caravan spent the night in Guanajuato, with plans to head to Guadalajara on Monday. The caravan continues to be spread out, with young men 100 miles or so ahead and women, children and families following behind.
A second caravan of 1,800 people is in Puebla, three days behind the main caravan, according to Mexican media reports. A third caravan of 2,000 people is about four days behind the main caravan.
Most members of the caravan have traveled about 130 miles per day.
During the weekend, federal police could be seen encouraging travelers to pick up migrants and take them to nearby shelters.
Fox News producer Robert Shaffer contributed to this report from Guanajuato, Mexico.