Canadian diplomats sue government for 'downplaying the seriousness' of mystery illness in Cuba
Five Canadian diplomats and their family members are suing Ottawa for $21.1 million for allegedly "downplaying the seriousness" of the mysterious illness that affected more than a dozen people working in Cuba.
The group – 14 plaintiffs in total – accuse the Canadian government of delaying medical treatment and their evacuation from Havana, claiming they are still suffering from what they are calling "Havana Syndrome."
"Throughout the crisis, Canada downplayed the seriousness of the situation, hoarded and concealed critical health and safety information, and gave false, misleading and incomplete information to diplomatic staff," the group says in a statement to CBC.
US DIPLOMATS IN HAVANA HAD INNER-EAR DAMAGE, NEUROLOGICAL INJURIES: DOCTORS
A total of 14 Canadians – including diplomats and some of their family members – have fallen mysteriously ill since early 2017.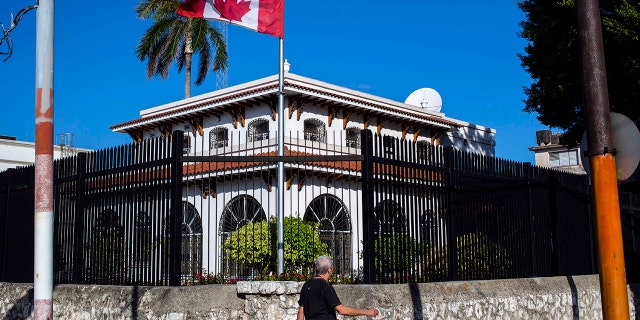 Last week, the government announced it would remove up to half of its embassy staff in the Cuban capital. It said it will continue to have an ambassador in Havana and full consular services will be available for Canadians.
One unnamed career diplomat told Radio Canada that he, his wife and children were all diagnosed with brain damage in June 2017 after his posting in Cuba.
"My wife, she isn't the same anymore," he said. "She has gaps in her memory, headaches, problems hearing. She picks up the telephone to make a call but forgets why, enters rooms without reason. She can't concentrate anymore."
He the symptoms emerged in spring 2017, but it wasn't until the summer of that year when his family was evacuated to Miami that he and other employees realized they were all suffering from similar symptoms.
Canada evacuated the families of its diplomats in Havana in April 2018 and then again in November 2018.
'SONIC WEAPON' USED ON US DIPLOMATS IN CUBA MAY INSTEAD HAVE BEEN CRICKETS, SCIENTISTS SAY
Another diplomat told Radio-Canada that they don't understand the reasons why their evacuations were delayed after all falling ill.
"Why didn't we have access to the specialized care we needed? This wasn't by chance. It was the result of their decisions," she said. "Who will give us this time back?"
Foreign Affairs Minister Chrystia Freeland told CBC on Wednesday that she has met with some of the diplomats and their families who have returned from Cuba.
"I'm really concerned about them, and they have Canada's utmost sympathy and support," she said. "They were in Cuba representing us, and representing our country, and their health and safety absolutely need to be a priority."
Freeland would not comment on the lawsuit.
U.S. diplomats in Cuba also began complaining of headaches and nausea in the spring of 2017.
Twenty-six workers at the U.S. embassy in Cuba have been affected, suffering a range of symptoms and diagnoses including mild traumatic brain injury, also known as concussion.
The U.S. reduced its embassy staffing in Cuba to a maximum of 18 from more than 50 after more personnel developed unusual illnesses.
Cuba has adamantly denied any involvement in the health problem.
CLICK HERE TO GET THE FOX NEWS APP
The mysterious case has sent U.S.-Cuba relations plummeting from what had been a high point when the two countries, estranged for a half century, restored full diplomatic ties under President Barack Obama in 2015.
A report published in the preprint journal BioRXiv earlier this month claimed the buzzing may actually have been caused by crickets.