Canada struggling with illegal border 'crisis' of its own ahead of crucial elections
Montreal, Québec – As migrants continue to spill over the porous southern border, many politicians are calling the situation a "crisis" and are urging the government to do more.  Some have even proposed putting up a fence along one of the longest borders in the world.
The border in question, however, is not America's border with Mexico, but Canada's with the United States. Some estimate that as many as 400 a day are crossing the 5,525 mile border between Canada and the U.S. through non-official ports of entry and with provincial elections looming, the issue is causing political ramifications.
As the Trump Administration has cancelled Temporary Protected Status (TPS) for several nationalities with large immigrant communities in the U.S. - notably Haitians and Salvadorans - many of those people have felt they have little option but to flee to Canada for safety.
Under a refugee agreement known as the Safe Third Country Agreement that both the U.S. and Canada are party to, a person with protected status in a country that is deemed "safe" for refugees (in this case, the United States) cannot leave the country and apply for asylum in another "safe" country at an official port of entry.  A loophole in the agreement, however, allows these refugees to apply for asylum in another country if they're already inside that country.
This has led to thousands of asylum-seekers crossing into Canada from gaps in the border with the U.S. over the past two years, almost all of them into the province of Québec from upstate New York.
This situation has created political tension across Canada, with conservatives laying blame for the "crisis" squarely at the feet of Justin Trudeau's government.  Shortly after President Trump took office, the Canadian prime minister issued a now-infamous Tweet saying that all refugees would be welcome in his country, with the hashtag #WelcomeToCanada.
Many, such as the opposition Conservative Party's shadow Minister for Immigration, Michelle Rempel, have said that this created an unrealistic expectation that anyone could come to Canada. During emergency meetings in Parliament this summer on the issue, Rempel said she doesn't think that's sustainable, and added that she thought the "situation is going to get worse."
Those feelings have been echoed by leaders in the province of Ontario, who have called on the Trudeau government to do come up with a plan on how to deal with asylum-seekers, who continue to cross into the country in significant numbers. The Royal Canadian Mounted Police intercepted 7,326 people at the border between April and July.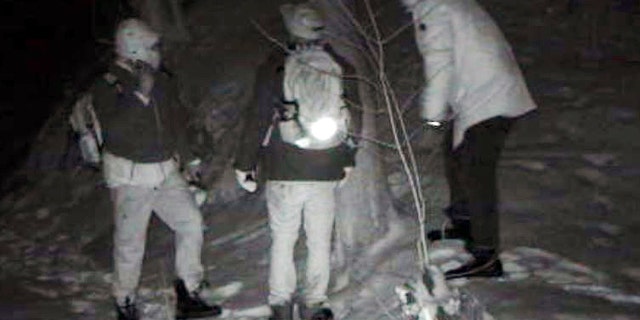 ILLEGAL BORDER CROSSINGS IN CANADA RISE FROM JUNE TO JULY
Nowhere has this tension over migration been felt more keenly than Québec, the only Canadian province that has partial control over who immigrates there, and the province of arrival for an estimated 96% of irregular border crossers (the Canadian government actively discourages the use of the term "illegal" to describe asylum-seekers that have entered the country by straying across the border).  Many in the predominantly French-speaking province consider immigration to be a process that dilutes Québec's unique linguistic and cultural identity in North America.
The province is facing an election on October 1st in which immigration is already proving to be a hot-button issue. The governing Liberal Party led by Premier Philippe Couillard has worked closely with the federal government to accommodate asylum seekers, allowing most of those who want to remain in the province to stay while helping those who do not get settled in Toronto and other locales that can accommodate them.
However, even the Liberal government in the province declared earlier this summer that they, along with the province of Ontario, have "run out of room".
CANADIAN IMMIGRATION WEBSITE CRASHES DURING ELECTION
The party is trailing in opinion polls to a nationalist opposition party known as the Coalition Avenir Québec (CAQ), which has promised to slash even legal immigration by as much as 20%, and to force all new immigrants to learn French. Currently, most immigrants are given the option of learning either English or French.  In an interview with the Montréal Gazette earlier this year, the party's immigration spokeswoman Nathalie Roy accused the Liberal government of trying to "hide the problem [of immigration] under the carpet."
In response, Premier Couillard accused the CAQ of considering immigrants to be "problems that need solving."
CHICK-FIL-A'S CANADIAN EXPANSION SPARKS PRO-LGBTQ PROTESTS
The CAQ, led by former businessman François Legault, has also proposed taking strong action to protect the "secular" nature of the state, by banning overt religious symbols such as hijabs and yarmulkes.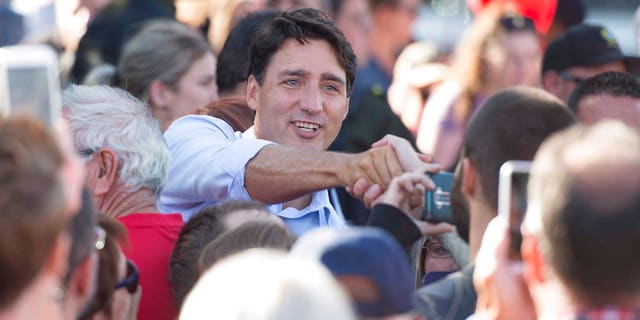 Legault's party has been far from the only one proposing tough solutions to immigration problems in Québec.  In a move that may sound familiar to Americans, another opposition party, the Parti Québécois (PQ) proposed earlier this year to construct a fence along stretches of the province's border with New York that have seen large numbers of asylum seekers enter the country. The PQ's leader, Jean-François Lisée, has since walked back those comments somewhat but the idea sparked a conversation about what can be done to discourage refugees from making the journey.
Currently, as provincial politicians have begun to distance themselves from open-arms immigration policies, the staunchest champion of Canada's surging population of asylum-seekers is still Trudeau.  But polls have shown that most Canadians would prefer a stronger line, like that espoused by the opposition Conservative Party, be taken instead.  With a federal election in the country scheduled for next October, Québec's election could be a bellwether for Trudeau.