Calls grow for Chicago prosecutor Anita Alvarez to step down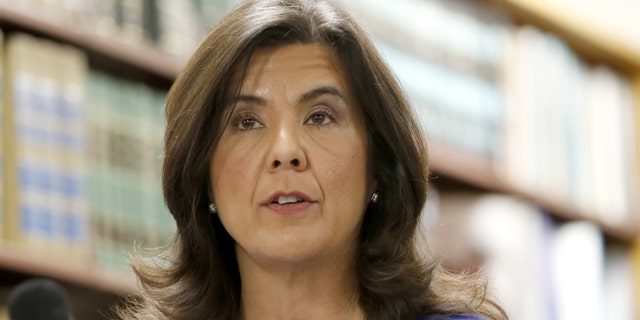 She has projected herself as a fresh change to Chicago politics – a mom who goes after the bad guys, a daughter of a waiter and a seamstress who earned a law degree and climbed up the male-dominated judicial world.
Cook County State's Attorney Anita Alvarez, 55, made headlines in 2008 when she became the first female and Hispanic to be elected to that office. She beat out a crowded Democratic field in the primary and has encountered little opposition since then – until now.
Alvarez, who is seeking her third term, is making headlines again as a growing chorus of Latino and African-Americans leaders in Illinois call for her resignation after taking more than a year to charge a white Chicago police officer with first-degree murder for shooting a black teenager 16 times.
Critics say Alvarez, mindful of the March primaries, in which she faces stiff competition, announced charges against Officer Jason Van Dyke only after the city released police squad car video of the shooting on Tuesday in response to a judge's order. (On Monday, bail for Van Dyke was set at $1.5 million.)
Cook County Board President Toni Preckwinkle called on Alvarez to step down because of her handling of the shooting, according to the Chicago Tribune.
"I've had no confidence in (Alvarez's) leadership for a very long time," Preckwinkle told the Tribune. "I think the way she has run the office is disgraceful."
Preckwinkle said Alvarez and Chicago police Superintendent Garry McCarthy – who was fired by Mayor Rahn Emanuel on Tuesday – should have known that 17-year-old Laquan McDonald was walking away from police when he was shot and killed.
Preckwinkle's comments came as Cook County Commissioner Jesus "Chuy" Garcia and five of the City Council's 10 Hispanic aldermen held a press conference calling for Alvarez to resign. They're angry that the state's attorney charged Van Dyke with murder only hours before the city released the video.
"This issue transcends ethnicity," said Alderman Ricardo Muñoz, according to the Chicago Sun-Times. "We would be calling for the resignation of any state's attorney who takes over 400 days to indict an individual who obviously committed murder."
"This issue is not about ethnicity. It's about justice. People are looking at this and seeing that it was a miscarriage of justice that she took so long to bring the charges. How long does it take to investigate something that's on tape?"
But even before the current national spotlight, Alvarez has been dogged by complaints that she is driven by a commitment to protect the prosecutor's office, political allies and the image of police.
African-American community leaders, in particular, have accused her office of bias when working on cases involving police misconduct.
Alvarez's primary opponents, one of whom is African-American, are referring to the handling of McDonald's fatal shooting as proof that she is ill-equipped to continue as the top prosecutor in one of the country's biggest court systems.
One of the Alvarez's more notorious cases was an off-duty police officer's fatal shooting of a 22-year-old unarmed black woman, Rekia Boyd.
The officer, Dante Servin, got into an argument with a group of people and opened fire on them from his car, hitting Boyd in the back of the head. Alvarez's office charged Servin with involuntary manslaughter. Cook County Judge Dennis Porter dismissed the charges against Servin, not because he thought the officer was blameless but because he believed prosecutors should have charged him with a more serious offense, such as murder.
Servin remains on desk duty in the police department, and critics of the city's handling of that case say he should at the very least have been placed on leave.
Now, as the city roils with anger over the death of McDonald, McCarthy has recommended that Servin be fired, according to published reports. Servin's attorney argued that the officer shot after fearing for his life.
Alvarez has said that both cases were far more complex than they appear to the public.
"We were engaged in an active joint ongoing criminal investigation at both the state and the federal levels," Alvarez said in a press conference Tuesday in announcing the murder charges against Van Dyke. "The public needs to know that while it would seem to some that the 12 months of investigation with our federal partners has taken too long, investigations of police shootings and misconduct are highly complex matters that carry with them very unique legal issues that must be fully examined and taken into consideration."
"At the end of the day, I'd rather take my time and get it right than rush to judgment and get it wrong," Alvarez said.
There have been other cases in which Alvarez has been accused of being overly protective of the police and overzealous in pursuing those who sought to expose questionable conduct by officers. She has brought criminal charges against people who have recorded police officer but had those efforts knocked down in courts.
In a case in which Alvarez tried to prosecute ACLU staffers for recording police actions in public places, a federal court ruled in 2012 that Illinois' eavesdropping law "likely violates" the First Amendment. The judge ordered the state to stop prosecuting people on eavesdropping charges.
Harvey Grossman of the ACLU of Illinois said after the ruling, "In order to make the rights of free expression and petition effective, individuals and organizations must be able to freely gather and record information about the conduct of government and their agents – especially the police."
Some think that Alvarez is bearing the brunt of a larger, troubled system that needs broader reforms.
"Asking for her resignation is not going to solve the problems that need to be fixed. That's for the voters to decide," said Alderman George Cardenas, chairman of the Hispanic Caucus, according to the Sun-Times.
"What we need to focus on is reforming the system and working on things that should be worked on. There's a backload of these cases that need thorough review. The criminal system is not working for the common man."
Like us on Facebook
Follow us on Twitter & Instagram