CA town plagued by cross-border tunnels blasted by DOJ over policing practices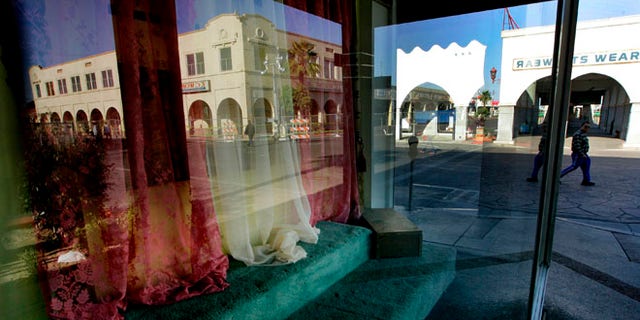 SAN DIEGO (AP) – The U.S. Justice Department issued a scathing review Wednesday of a small town's police practices in a big drug and immigrant smuggling corridor on California's border with Mexico, finding a lack of basic controls and oversight of criminal investigations, unstable leadership and other red flags.
The 133-page report was released less than a week after the ousted police chief of Calexico filed a federal whistleblower lawsuit describing missing guns, money and other evidence and allegations that city workers engaged in drug trafficking, overtime abuse and theft.
The Justice Department's Community Oriented Policing Services unit limited its review to broad systemic flaws and steered clear of specific allegations of wrongdoing and misconduct, but its unusually blunt language portrays a police department that is failing on many fronts. It recommends a sweeping overhaul.
"It shows a pretty significant level of deficiencies in the core operations of a department," Ronald Davis, director of the unit, said in an interview. "The consequences of not implementing the 169 recommendations would be that you would sustain a dysfunctional department."
The city's interim police chief, interim city manager and mayor didn't immediately respond to phone messages seeking comment Wednesday.
Calexico, a city of 40,000 people 120 miles east of San Diego, is a big area of concern for federal agencies including the Drug Enforcement Administration and Customs and Border Protection, which routinely seizes heroin, methamphetamine and other drugs at two border crossings in the city. Easy freeway access to Los Angeles and Phoenix make it part of a coveted smuggling route, controlled by Mexico's Sinaloa Cartel.
The area around the city has also been plagued in recent years by the discovery of cross-border drug tunnels. Earlier this year, two such tunnels were discovered in a three-week period – one of which ran the length of four football fields from a restaurant in Mexicali, Mexico, to a newly built house in Calexico.
The Calexico Police Department has been suspended from two task forces with federal or state officials that are designed to disrupt the flow of drugs — the Imperial Valley Drug Coalition and the Imperial County Narcotic Task Force. The Justice Department report says unstable leadership led to the removals.
The FBI raided Calexico police headquarters and seized files in October 2014, less than a month after Michael Bostic, a former top official with the Los Angeles Police Department, was hired as police chief and began cleaning house. The FBI has not reported results of its investigation.
Bostic, who was ousted in November by new city leadership, said in a whistleblower lawsuit filed last week in San Diego that he told the FBI of drug use, drug trafficking, money theft and smuggling by city employees.
The lawsuit says an audit performed by the Imperial County Sheriff's Office at Bostic's request revealed significant amounts of missing money, drugs, guns and personal property believed to be stolen by Calexico officers.
Gonzalo Gerardo, also a plaintiff in the lawsuit, reported suspicions of drug trafficking by Calexico police employees to the FBI in late 2013 when he was a lieutenant.
The Justice Department unit launched its review at Bostic's request, as it has in Baltimore; Philadelphia; St. Louis County, Missouri; and several other jurisdictions that have asked for advice. It comes at a time of growing scrutiny of police practices nationwide.
The federal review found a general lack of supervision and accountability, absence of community policing, poorly functioning internal affairs department, no analysis of crime data or sharing of information internally or externally, and lack of commonly used tools to detect problem officers.
The Justice Department praises Bostic, saying the review could not have been completed without his support. It notes that he fired or suspended six officers and replaced the investigations unit.
Like us on Facebook
Follow us on Twitter & Instagram